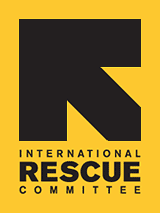 Employer Appreciation Day
For the past 30 years, Michael C. Fina, a world-class designer of wedding rings, fine jewelry and designer china has been hiring refugees from the IRC. Soba Nippon, known as America's first authentic Japanese restaurant in New York has provided jobs to refugees for the past three decades as well. In recognition of their longstanding, key partnerships with IRC-NY, both employers were presented with the first IRC Employer Appreciation Awards on April 28th during IRC-NY's 2nd annual Employer Appreciation Day.
Many others attended the Employer Appreciation event, which recognizes employers who have hired refugees through IRC-NY's Employment Services Division. Allen Scott greeted those in attendance, and then Kelly Agnew-Barajas, Executive Director of the NY/NJ Regional Office, discussed the works and mission of the IRC in providing employment opportunities to refugees. Danielle Coon, Program Operations Officer, spoke about IRC-NY's Case Management Services, emphasizing its role in preparing and supporting refugees in their transition to work. Cassy Cox, Employment Specialist, followed up with a presentation on the I-9 requirements, the necessary documentation needed to verify a new hire's legal right to work-practical information on an often confusing topic.

Employers, staff and volunteers enjoyed the opportunity to reflect on their shared interests and accomplishments through informal conversation and networking. Hat-makers and custom wallpaper painters alike noted the unique qualities refugees bring to their niche markets, including a strong work ethic and patient dedication. IRC-NY applauds all of our partnering employers who give resettling refugees an opportunity for true self-sufficiency, while contributing to our community.