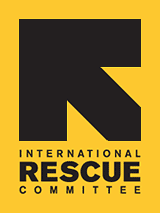 Giving Thanks to Partners & Employers
Tio's eyes sparkled as he eagerly welcomed guests to the IRC in New York's Employer Reception on May 12th. With endearing warmth, he eagerly told the story about how IRC helped him get his first job at a hotel after getting asylum – a job he held for about 8 years. Tio had come to New York from Indonesia in 2000. Currently looking for another position due to recent downsizing, Tio jumped at the opportunity to volunteer at the Employer Reception, an annual event that honors the crucial role that partnering employers play in helping refugees make a new life in New York. As Tio put it, "Anything I can do to help the IRC. They helped me and my wife so much."

Tio was one of six IRC clients who graciously volunteered their time to assist at the Employer Reception in hopes of landing a job. Each of the volunteers were dressed neatly in black IRC t-shirts and worked as hostesses, bartenders and bus boys to the employers in attendance. Their smiles and stories added a truly unique component to the event and created quite a stir when the Employment Supervisor, Cassy Cox, highlighted each of their work experience to the crowd. This led to one on the spot job offer, two job interviews and three more interviews scheduled.

The evening was an important opportunity for the IRC in New York staff to acknowledge and thank each of the employers with whom we partner. Staff, refugee clients and employers all mingled amidst the backdrop of photos of refugees from diverse backgrounds at work and at home here in New York.
Awards were given to three of the companies present. InterContinental Hotel was given the award "Employer of the Future" because of the opportunities it gives IRC refugees to build their futures by providing excellent salaries and advancement.

The "Most Inspiring Employer" award went to KEPCO for thinking outside the box and recognizing the potential in refugee clients. Whether giving refugee professionals a chance to re-enter the job market in their former field or providing clients with high potential and little experience the opportunity to learn in a technical job environment.

Clarity Domestics, recipient of the "Most Innovative Employer of the Year" award, allows IRC clients to be a part of a company at the forefront of innovative business practices.

With dozens of forward-thinking business partners who recognize the potential in the refugees who resettle in New York, hundreds of refugees each year are afforded the opportunity to provide for their families with independence and dignity. IRC's Employer Reception was a poignant reminder, as well, of the contributions refugees are making each day to New York's local economy.