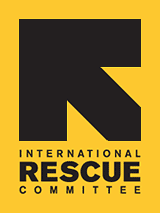 It Has To Be Magic!
On October 30th, 45 refugees from Burma, Bhutan, Iraq, Burundi, and Iran looked on in awe as sequined performers flew through the air in a dizzying array of twists and tricks on a trapeze high above their heads.

Peeking at the performers through the space between her fingers covering her eyes, Fides, a young mother from Burundi shrieked that she couldn't watch, while her four year old son, Caleb, sat transfixed in disbelief. When a clown disappeared from inside of a box without a trace, jaws dropped and heads turned as each child asked their parents where she could have gone. "It has to be magic, there is no other way!" 10 year-old Mohammed from Iraq exclaimed.

The Big Apple Circus, now in its 34th season, generously donated tickets to the IRC in New York so that newly arrived refugees could attend the aptly named, "Dream Big" performance. Through its death defying fantastical acts from all over the world, it sent out the message that anything is possible if you are willing to imagine it. The message worked.

After the show, two young Burmese girls were animatedly discussing the wonder of the women flying through the air. When asked if they thought that they could do the same, they answered without missing a beat "of course!" as they imitated the twirling dancers around the circus tent.