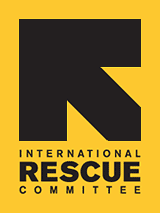 James Lenton, IRC-NY's Youth Program Director Wins Humanitarian Service Award
IRC-NY is proud and honored to announce that its very own, Refugee Youth Program Director, James Lenton was one of two the recipients of the 2010 Liv Ullmann Humanitarian Service Award.

James Lenton has worked overseas and in the United States with the IRC for the last six years to ensure that refugee children have access to opportunities for learning, protection, and growth. His compassion and respect for refugees, his support for learning, and his commitment to helping all children succeed , no matter how disadvantaged, are constantly evident in all of his daily interactions with students, teachers, and parents. James approaches problems creatively and remains patient and calm no matter how difficult the circumstances. He is quick with a word of encouragement, gentle in his corrections, and ever-mindful of being a role model to youth as well as program staff and volunteers. James always goes the extra mile to make sure all that can be done is done to help a struggling child. He has found funding to buy a computer so a homesick Burmese boy could stay in touch with his friends back in Thailand. He has coached youth program staff on alternative solutions to a difficult family situation that he has researched himself. He has helped local community efforts to find support, staff, and materials for expanded after school programming.

Since James' arrival, the New York Youth Program has transformed from a program mainly supported by volunteers and ad hoc funding to a model worthy of emulation throughout the IRC network. James has hired and trained the highest caliber youth program staff and legions of volunteers and interns, implemented advanced tracking systems to measure students' outcomes and progress in meaningful ways, and developed innovative and effective programming that keeps pace with the evolving needs of refugee students.

James has a glowing reputation, not only within the IRC, but also among our sister resettlement agencies, with state and local funders, and, most importantly, with refugee children and their parents, as someone who is open, responsive, helpful, and professional. Refugee youth are constantly come to the office looking for "Mr. James" for some advice or guidance. On Saturdays and at countless after-hours youth events and functions, James steers the programs to ensure that children are getting the best help to prepare for school and to face the challenges of their new lives in the United States. James lives by and implements the highest ideals for youth development, with a strong conviction for youth empowerment and peer leadership. He began the Leaders in Training program to help promising students become role models for their peers and advocates for other refugee youth. Through the LIT Program, James has assisted refugee youth to apply for college and prepare for future careers. Thus far 15 refugees have started their college careers with James' help.

Congratulations James!