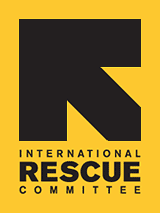 Local Mayor Speaks to New Jersey Refugees

Mayor of Elizabeth, Chris Bollwage, meets IRC New Jersey English Language students
Newly arrived refugees to New Jersey got a taste of local government during a recent City Hall visit. Refugee families studying English at the IRC's Resettlement Office in New Jersey joined their teacher on a class field trip to the seat of city government in Elizabeth, a diverse city of 124,969 and the fourth largest city in New Jersey. Twenty-four students took part in the October 3rd tour and were thrilled to meet Elizabeth's Mayor Chris Bollwage, learn about city government and enter Council Chambers. The Mayor welcomed everyone into his office and informed the group about his 20 year run as mayor of Elizabeth and the many different things he has done for the city of Elizabeth.
Elizabeth City Hall is just a few blocks from the IRC office, but is a space not many refugees are thinking about during their first tumultuous months of adjustment to life in the United States. Apart from the visit with the Mayor, the tour enabled students to learn about the different branches and departments within the City Hall, including the Human Rights Commission, Public Information and Employment Benefits. Equally exciting, the group entered Council Chambers and was able to see how and where local council people make decisions about their city. The visit to City Hall came two weeks after the same group of students participated in a tour of the three-story Main Elizabeth Public Library. One participant, Arnoldo Herrera, a Cuban refugee who arrived in New Jersey in August explained, "My favorite place in the library was the computer area. I can send emails to my family in Cuba."
In addition to helping refugees understand what services are available through the public library system, the IRC worked with library staff to process library cards in advance for 16 students. The cards give refugees access to a myriad of resources and valuable information that will help them navigate their new home. Annie Ramos, the ESOL teacher who coordinated the library and City Hall visits, explained, "I was excited about having the students receive library cards and allowing them to have access to what the library can offer them, including internet access which can allow them email their families back home and additional language resources to reinforce the English studied in the classroom."
New Jersey's Resettlement Director, Alison Millan, explained, "It is so important for newcomers to feel supported in their transition to a new life. These recent trips to the library and City Hall are examples of how we can successfully introduce refugees to civic institutions in their new neighborhoods within the context of their commitment to learn English."
The IRC has been resetting refugees in northern New Jersey since the mid-nineteen-eighties and has helped 2,454 people rebuild their lives in the Garden State since 2000.