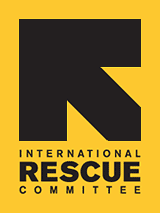 Ringing the Opening Bell at the NYSE
IRC in New York Leader in Training Anita Sharma writes about her visit to the New York Stock Exchange and meeting UN Special Envoy for Global Education and former UK Prime Minister, Gordon Brown. In his capacity as UN Special Envoy for Global Education, Mr. Brown is joining UN Secretary-General Ban Ki-moon in launching Education First, a UN initiative to put education on top of the development agenda.
First of all, I would like to thank IRC for giving me an opportunity to visit the New York Stock Exchange and ring the bell with the former prime minister of England, Gordon Brown. I went with my Leaders in Training mates and being inside the NYSE building along with Mr. Brown was the best experience I ever had. The staff and the workers treated us very humbly and respectfully. They made us feel very special. My excitement grew when the journalists and news reporters came and took our pictures. I felt as if I was a "famous" person as they were following wherever I was going and I felt that they wanted to capture each and every moment of my presence.
When it finally came to ringing the bell, I was very nervous since it was going to be aired on TV. But, since everyone were encouraging and cheering for us that I completely forgot about my anxiousness. Then, I could fully enjoy the moment. After the bell ringing ceremony, when I saw myself on the TV, I felt very happy and pleased. I cannot express the amount of happiness and excitement I was feeling at that moment. Seeing myself on TV, standing next to Mr. Gordon Brown, made me feel very honored and proud of myself.
Hence, I feel very lucky and fortunate to have got this opportunity. I would consider it as one of the biggest accomplishments in my life. I will always cherish the experience of meeting Mr. Gordon Brown and being on TV. I feel very blessed that I am part of this wonderful organization - IRC - that always encourages me and gives me a chance to be a part of the great opportunities like this.
See a video of the visit here.