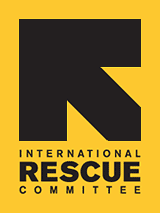 IRC Welcomes Olympian and New U.S. Citizen Guor Marial
On February 22nd, the IRC offices in Phoenix were filled with waving American flags and cheers. IRC staff, Arizona Refugee Resettlement Program (ARRP) Coordinator, Charles Shipman, ARRP staff, and members of the South Sudanese community gathered at the IRC's Phoenix office to honor South Sudanese marathoner Guor Marial. Marial is a South Sudanese competitive runner who lives and trains in Flagstaff. Last year he garnered international attention as one of only four athletes to compete in the 2012 London Summer Olympic Games as an Independent Olympic Athlete, running under the Olympic flag rather than that of any nation.
Mr. Marial, a Dinka tribesman, fled from war-torn South Sudan to Egypt in 1994 at just eight years old. At sixteen he was granted refugee status and was resettled in Concord, New Hampshire. Marial ran track and field in high school and then at Iowa State University, becoming an All-American Athlete, ironically, before he was eligible to become an American citizen.
After swearing in as an American Citizen, Marial was brought to the IRC where a patriotic-themed luncheon awaited him. Marial, several members of the film crew documenting Marial's journey, and three of his closest friends from his home in Flagstaff, received a warm welcome from IRC staff.
Having run only two marathons in his life, Marial's times qualified him to run in the London Olympics, yet the problem of nationality remained. He declined to run for Sudan, stating that to do so would dishonor "the two million people who died for our [South Sudan's] freedom." Yet his U.S. citizenship was still pending. He had successfully completed his citizenship interview in June 2011 but continued to wait for his security background check to be finalized. Ineligible to run for the United States, his home of ten years, and unable to run for new nation South Sudan, which had not established a National Olympic Committee in time for the 2012 Summer Games, Marial obtained IOA status and traveled to London as a stateless Independent Athlete.
Despite finishing forty-seventh in the Olympic marathon, Mr. Marial was grateful for the opportunity to compete and represent his nation, even unofficially.
As of Friday, February 22, Mr. Marial will be able to represent South Sudan should he qualify for the 2016 Olympics in Rio De Janeiro. In addition to qualifying for the Rio Olympics, Marial's goal is to harness his athletic celebrity to focus international attention on the struggles of his homeland, and to improve the quality of life in South Sudan. At his naturalization celebration at the IRC's offices, Guor gratefully acknowledged the efforts of organizations such as the IRC that seek to inform Americans about the situation in South Sudan and work to ameliorate the quality of life there. Donna Magnuson, Executive Director of the IRC in Phoenix, thanked Mr. Marial for celebrating his milestone with the IRC and reaffirmed the IRC's commitment to aiding the South Sudanese both in Arizona and in their new nation.
The milestone of Mr. Marial's naturalization will soon be followed by another momentous occasion in his life. In May 2013, the documentary team that has been shadowing Mr. Marial in recent months will accompany him on a trip back to the country of his birth. With citizenship comes a U.S. passport for Mr. Marial, as well as the chance to finally visit his parents and two surviving siblings. Marial's trip to South Sudan will reunite him with his family for the first time in twenty years.
Profiles on Guor Marial have appeared in publications and on websites from all over the world, from Runner's World to the Boston Globe to BBC.co.uk. The IRC in Phoenix was proud and grateful to welcome this promising and dedicated refugee athlete to its offices.
Story by Sophie Epstein, Communications Intern
Pictures by Lindy Drew