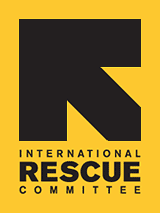 Lemonade 4 Refugees
This story was written by Pellagia Gambiza, IRC's former Micro-Enterprise Coordinator, whose neighbors turned into" IRC's little fundraisers" during a recent New Roots gardening event.
The two little boys in this picture have become avid supporters of IRC. When their dad told them they could not attend the New Roots Farm Raising event held on
September 15 at our Lady of Guadalupe Monastery – the little boys were undeterred. It had been a long week for both mum and dad, so a compromise was drawn with the boys – let's find another way to honor all the refugees in the greater Phoenix community. Cue Yale and his great idea for a lemonade stand at the corner of the park in their neighborhood.
Boys in tow – Yale is 4 and Braden is 6 – Dad embarked on the journey to buy lemonade stand necessities from the local grocery store. I went out and supported them – after all that's the only way to instill the idea of "Doing Good" to young ones – by supporting their 'do good' efforts.
The boys held up a sign that read "Lemonade 4 Refugees." For each car that stopped the boys took turns, or both abandoned me and the sign to serve their 'donors' – explaining the ins and outs of lemonade, taking the donations and trying to explain all they knew about refugees. From 5 to 6:30pm they raised over $75, or as Yale excitedly noted…"Thousands!"
The last words out of Yale's mouth as he was being buckled into the car were "Dad, can we do that again tomorrow?"
Pellagia arranged for the boys and their father to visit the IRC office, gave them a tour where they met New Roots staff and were thanked for their generosity. We are truly thankful to this family for their thoughtfulness, and for instilling the value of helping others in their young children. Children are indeed our future and these two children will help ensure our world is a better place in years to come.
For ideas on how you and your family can support the work of the IRC and the refugees we serve, contact Nicky Walker, Development Manager, at nicky.walker@rescue.org or 602.433.2440 x 213.