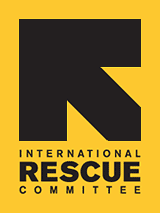 Goldman Sachs volunteers for a day of service
This Spring ten volunteers from Goldman Sachs spent the day helping newly arrived refugees feel comfortable in their homes. Through the help of the wonderful volunteers, the IRC SLC delivered beds, furniture and other basic needs as well as helped arrange and put together furniture for several families. Volunteers expressed such enthusiasm for the opportunity to volunteer stating "Everything about the IRC experience was wonderful!"

The Goldman Sachs volunteers were excited to serve, evident by the high levels of energy throughout the day. The busy day started off with introductions then off they went with several bed deliveries, picking up mattresses from the local distributor and hauling beds into new apartments. In the afternoon, volunteers loaded up furniture and basic supplies for an older Bhutanese couple that had just arrived and drove over to their new apartment. Volunteers picked out furniture and decorations the spent time arranging furniture and putting away the donated house wares. As the delivery and apartment set-up was happening, the Bhutanese couple stood to the side and smiled as they watched the beehive of activity in their small apartment. It transformed in just 20 minutes from a pile of stuff to a little home.

One of the GS volunteers said, "I was surprised by how quickly it got done, and having the family there with us was a great way to wrap up the day." Before leaving, the refugee couple had their caseworker interpret a very heart-felt thanks to all the volunteers, saying, "We are so very grateful that you have made us feel so welcome and cared about in America, on our very first day here. We are so happy to be in a country with such wonderful people." The volunteers had big smiles and watery eyes as they wished the couple the best of luck in their resettlement, and shook their hands as they walked out the door.

Volunteers were eager to learn about how the refugees get here, the situations they are coming from, what it is like for families once they arrive, and what the people in Salt Lake City can do to make the resettlement experience better for refugees. Many of the Goldman Sachs volunteers expressed a desire to get more involved – to mentor a refugee family or help gather needed donations. One volunteer said "Everything about the IRC experience was wonderful!" And it was! In one day, the group really did make a difference – especially for the Bhutanese couple on their first day in the United States helping the couple feel welcome and cared for. The couple will remember that for a long time one of their first experiences in Salt Lake City.

The International Rescue Committee (IRC) needs your help in providing essential household items to refugees resettling in Salt Lake City. To learn more about donating or volunteer opportunities please contact us at 801.328.1091 or SaltLakeCity@theIRC.org.