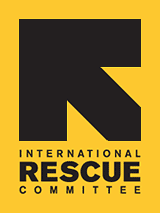 Highlights from Light One Candle: the IRC's Adopt-a-Family donation drive
Early in the morning on Saturday, December 15th, sixty-six volunteers gathered at the IRC office. Spirits were high despite snowy roads and cold temperatures, because everyone was sharing in the joy of giving. US Bus Utah donated their festive trolley car to transport volunteers and gifts from our office in downtown Salt Lake City to local apartment complexes in South Salt Lake. A team of employees from Mobi Squad also used their fleet of smart cars to help deliver items. Volunteers and IRC staff delivered gifts to 35 refugee families that day. Many families awoke to a knock on the door and a group of friendly faces with arms full of presents. The refugee families were surprised and full of gratitude as they received gifts and warm greetings from teams of volunteers. Despite language barriers, people found different ways to spread holiday cheer. One group of volunteers decided to sing a Christmas carol for the family, and although the words were lost in translation they were moved by the music.
Like that family, the IRC staff and the refugees we serve truly moved by the generous response of the Salt Lake City community to the Light One Candle holiday donation drive this year. Donors gave over $25,000 in donated items and more than 450 volunteer hours. The IRC would like to extend our deepest thanks to all who donated and volunteered their time to make this event a success. We would also like to thank the following businesses and community organizations for their support: AAPC, Brighton Rehabilitation, DrivingSales, Mobi Squad, Mountain Orthopedics, MRM//McCann, Myriad Genetic Laboratories Inc, Robert Half Technology, The S.J. Quinney College of Law at the University of Utah, Summit Sotheby's International Realty, Sunnyvale Neighborhood Center, the University of Utah Women's Club, the Vietnamese American Student Association at the University of Utah, Walmart and Waterford Institute.
Photo by Sarah Callicutt