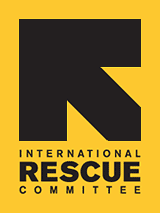 Learn More About the IRC from an Intern's Perspective
This past summer, Christie was an intern on the Development team at the IRC in Salt Lake City. Below, she shares her experience working with the IRC and what she learned throughout her internship.
"This past summer I worked with the IRC on the development team as a graphic design intern. I designed new marketing materials for the IRC in Salt Lake City. Since I was new to the organization, I had a lot to learn. My first project was to make a large poster to explain the five steps that refugees take on their path to citizenship. I had to do a bit of research concerning civics and citizenship and how refugees receive citizenship. I helped take photos at a school for the images that went on the poster. The poster is now displayed in the front lobby of the IRC to serve as a reference for refugees who have questions about the path to citizenship. I also volunteered a few Mondays and Saturdays teaching refugees topics like U.S. history and geography.
During my internship I learned how a non-profit organization operates. I saw how devoted the IRC staff is to their clients (refugees) and how appreciative they are to volunteers and interns. I enjoyed the working environment because every employee is there to help. Each time I completed a project, it made me feel good to know that I was helping a larger cause. What I like about this organization is the sense of community. One thing I enjoyed in particular was watching the employees create or expand program capacity. I got to help the development team with outreach material for various programs and flyers for events.

Overall, I learned a lot and I loved the people I worked with at the IRC in Salt Lake City. Everyone makes you feel wanted and appreciated. For example, a group of IRC staff took me to lunch for Gelato on my birthday, and I was only an intern! My experience was so great at the IRC that I recommended my best friend to the organization and he is currently working there as an intern. The IRC really cares about the community around them, and the staff works hard to ensure refugees are feeling welcomed and comfortable in their new home."
If you are interested in an internship with the IRC in Salt Lake City, please contact Lyn Spataro, Volunteer Coordinator, at
Lyn.Spataro@Rescue.org
or call 801-883-8456.