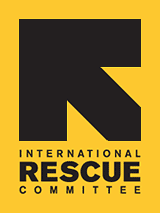 Student Volunteers Take Family Portraits of Refugees
On March 13th, 60 newly arrived refugees came to the IRC Oakland office throughout the day to have portraits taken of their families by student volunteers from Marin Catholic High School. It was the second installment of the partnership between the IRC and Marin Catholic's Photography 2 class, taught by Laurie Reemsnyder. Reemsnyder has long had an interest in refugee issues stemming from her work with the International Organization for Migration (IOM), and diligently attempts to instill in her students an appreciation and empathy for the human condition through photography.
After the students take the photos, they choose the best photos to frame and donate back to the families. While the photos from the first session were being delivered, it was a lot of fun to watch the families discuss the photos, laugh at the self-perceived silly faces they made, and find just the right arrangement for the photos in their apartment.
The IRC is so happy to have Laurie Reemsnyder and her students as partners as we work collectively bring newly arrived refugees in the Bay Area from harm to home!
Are you a photographer? If you'd like to take pictures of the work that happens here at the IRC, feel free to contact John Hollis at 415-863-3777 or John.Hollis@theIRC.org for opportunities!