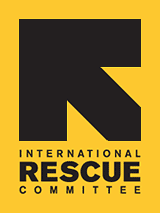 IRC in Seattle Potluck Party!
Everyone who attended the IRC in Seattle's potluck party on Saturday, March 13th declared it was a great event. Guest Joan Hernandez, City Council Member for the City of Tukwila, commented that she was very impressed with the turnout. About three hundred people - recently arrived refugees, family mentors, IRC staff, supporters, and special guests- gathered at Showalter Middle School in Tukwila to share food, friendship, stories and even some dancing. Special guest, Tukwila School District Superintendent Ethelda Burke, was also impressed with the diversity of attendees including representatives from the City of Tukwila, friends of volunteers, local high school students and school district staff.
Attendees were excited to bring and serve their favorite foods such as injera with traditional sauce, yellow rice with raisins and nuts, noodles, different curries, and lots of sweets. In addition, donations by local businesses including California Pizza Chicken, Azteca, Maple Leaf Grill, Stanford Restaurant, Snappy Dragon Chinese Restaurant, Red Robin, Safeway, and Sam's Club, made sure there was no shortage of food and drink.
One of the highlights of the party was having formal family or group portraits taken. Liliana Hoang and Siddhartha Saha donated their equipment, supplies, and talent to set up a photography studio, with backdrop and professional lighting to shoot formal pictures. To see some of these portraits and other photos from the party check out potluck photos.
Susanne Eckert and her students from The Bush School in Seattle also brought fun and youthful energy to the party by leading the children in games and crafts activities with equipment and supplies that they brought. Ms. Eckert reported that her students were part of an experiential education class entitled "Refugee Mentoring", which has been working on refugee and recent immigrant issues. They met with IRC Vista, Community Outreach Coordinator Maggi Little early in December to learn about the work of IRC in Seattle and participation in potluck was a culmination of that meeting. IRC mentor Kitty Harmon and her friend Christine Stickler brought their expertise in bookmaking to the crafts area, where kids were able to make personalized books to take home.
The party was held at Showalter Middle School in Tukwila, a location convenient for many recent arrivals living within walking distance of the school. Carpools and bus transportation were arranged for many of the refugees who live in Burien. Superintendent Ethelda Burke noted that our refugee community was able to observe how we make our schools a community center and was delighted to see that, "The IRC parent and student attendees had an opportunity to communicate with their peers from the same countries and other countries."
In 2009, the IRC in Seattle resettled 540 refugees from around the world and this party gave many different members of the IRC community an opportunity to get together and simply celebrate the achievements of the last year. It was also an opportunity to recognize that, as Council Member Hernandez says, "that there are large refugee families being sponsored [mentored] by a very caring group of volunteers."
Return to the IRC in Seattle