The IRC in Richmond has provided career advancement services for refugees and other eligible immigrants since October 2015. This program helps participants who have maintained early employment for at least 90 days to "ladder up" and move from a "job" to a "career."  In April of this year, the IRC in Richmond and Charlottesville was awarded a grant from the Hearst Foundation to scale up its Career Advancement Program.   The IRC in Richmond will help 30 clients gain employment in their field of expertise or a field that is in high demand.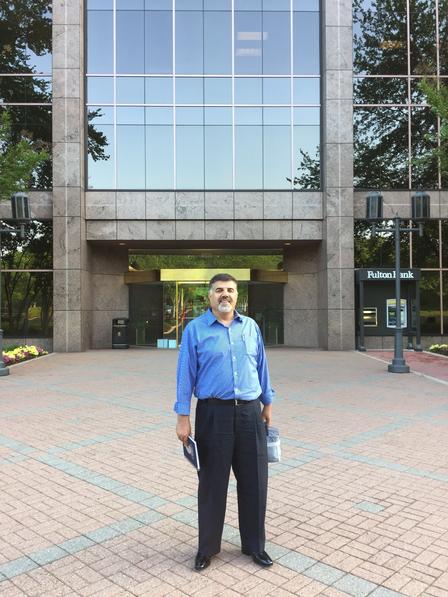 Through the Career Advancement Program, the IRC in Richmond assisted an Afghan engineer, Nasim Raghmaty, to achieve his dream of returning to this career in the U.S.  In Afghanistan, Rahmaty worked as a Civil Engineer with the Afghan Government and the U.S. Army Corps of Engineers.  Due to Rahmaty's affiliation with the U.S. Army Corps of Engineers, he and his family were living in danger and applied to come to the United States on the Special Immigrant Visa (SIV) program. This program helps those who have worked to support the U.S. mission in Afghanistan for at least two years to be resettled in the United States where they receive the same services provided to refugees.  SIVs make up 70% of the IRC in Richmond caseload and many of them have advanced degrees and skills.
Rahmaty was enrolled in IRC's Career Advancement Program in March and was paired with mentors from the Second Presbyterian Church in Richmond. Mentors from the church worked with the entire family of six and helped them get oriented to American life and improve their English by providing in-home tutoring. One mentor from the group also worked closely with Rahmaty and the IRC Employment Specialist to explore opportunities at engineering firms.  It is incredibly difficult for foreign-born engineers to have an opportunity in the United States, even when the client has decades of experience and a master's degree, as Rahmaty gained in 1996.  However, a Richmond firm was very impressed by Rahmaty's knowledge and background and offered him a position.  Rahmaty and his family are overjoyed and understand how rarely this happens for refugees and SIVs coming to the United States. The Second Presbyterian mentors also collected money to help the family buy a car.  Today, the Rahmaty family is thriving in their new home and are thankful that they were able to start a new life in Richmond.