On a sunny Thursday morning, a group of refugee women, along with IRC Tucson staff, interns, and volunteers gathered to bring life back to the St. Demetrios Garden plots. Everyone worked hard to rejuvenate the soil, remove weeds, and plant a variety of seeds, such as amaranth, beans, and squash, as the monsoon season serves as a gateway for new crops to grow.  
In their native countries, refugees grew their own crops, which helped them secure their own food sources, and maintain their self-sufficiency. Resettling into urban areas, and living in apartment complexes, affords a small chance for refugees to practice their gardening skills. Thankfully, through the Nutrition and Food Security Program, refugees are able to reconnect with their agrarian roots. By participating in community gardening, they have a safe space to hone their agricultural skills, grow their own food and engage with the local community. 
 
"The refugee women used to grow their own crops in their home countries, the only difference is the climate in which the crops used to grow," says Katrina, our Nutrition and Food Security Project Coordinator. In Tucson, the weather is really hot and dry, while in different regions of Africa it is hot and humid, "this facilitates new learning experiences for the refugees and for those who are working with them."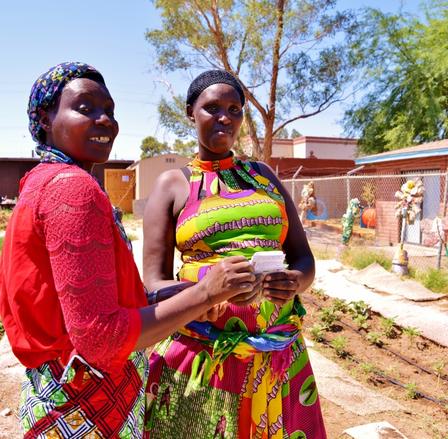 In addition to fostering communities and enabling new learning experiences, the gardening sessions encourage refugees to practice healthy living.  In 2014, the IRC Tucson partnered with The William and Mary Greve Foundation to promote the importance of nourishing foods in establishing a healthy lifestyle. With their support, the IRC Tucson was able to provide nutrition education programs, provide culturally appropriate food, and grocery store orientations to newly arrived refugees. Since then, The William and Mary Greve Foundation supported the program's growth, allowing for refugee families to engage in gardening activities. Now, refugees have an opportunity to pratice what they learned in nutrition education and apply nutritional concepts as they grow their own fresh produce and incorporate it into their family meals.  
"I love that the produce and the plants go directly to the refugees and their families" says Josepha. As a Wellbeing Promoter, Josepha emphasizes the importance of healthy cooking while using fresh ingredients. Being a former refugee, she also understands the importance of gardening to newly arrived refugees; "Gardening gives our refugees a sense of accomplishment, but it also provides a set of healthy options for their families." 
The gardening projects provide refugees with stability and self-sufficiency. Their tireless efforts exhibit their involvement and persistence in rebuilding their lives in their new communities.  
Support Tucson IRC's life changing work, Donate Today.