Each summer, the IRC in Atlanta's Youth Futures Sumer Camp hosts a special program for middle and high school refugee youth. In keeping with the multi-cultural spirit of the IRC, this year's theme was "Around the World in 40 Days". Each week, counselors highlighted different regions around the world, focusing on a specific country each day. Counselors presented fun facts about each country with topics such as culture, government, society, food, dress, and much more. After each lesson, an activity followed that gave program participants a chance to interact and demonstrate what they learned. Activities included learning about traditional dances, popular games, arts and crafts, and popular food related to the country that was studied each week. The IRC's Youth Future Counselors led discussions at the end of each session to allow the youth an opportunity to talk about what they learned and found interesting about each country.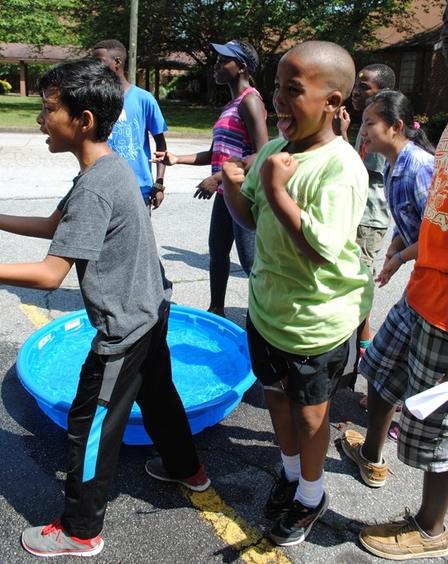 One of the special features of the IRC's Youth Futures Summer Camp included weekly lessons from the IRC's New Roots program staff. The New Roots program focuses on building connections through nutrition, healthy lifestyles, and community gardening. This program teaches youth many important lessons including healthy eating, safety in the kitchen, and sampling food from a region that the camp focused on that week.
In addition to learning about different countries and the importance of a healthy lifestyle, the camp participants were also able to participate in many different field trips around the Atlanta area, including the Georgia Aquarium, Atlanta Botanical Gardens, East Atlanta Farmers Market, and Stars & Strikes Bowling. Each field trip was something new and exciting for the kids attending. "It has been amazing summer so far at camp," explained Youth Futures Counselor, Sharita Katiwada. "It is amazing to see how this summer camp assists newly-arrived refugee youth with adjusting to a new community. They see so much of Atlanta and make new friends that they will keep throughout high school and maybe even longer."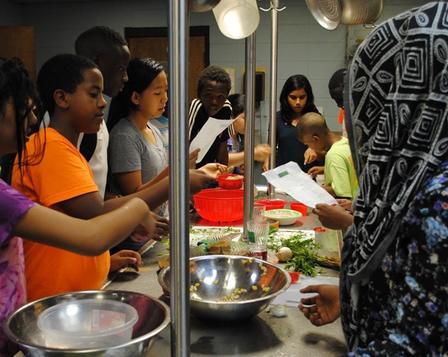 To learn more about the IRC's Youth Futures program, please contact Whitney Stovall, Youth Program Supervisor, at Whitney.Stovall [at] Rescue.org or 678 636 8960. To learn more about the work of the IRC in Atlanta and for information on how you can get involved with the IRC as a donor or volunteer, please contact Justin Howell, Development Manager, at Justin.Howell [at] Rescue.org or 678 636 8929.    
Stay connected to the IRC in Atlanta! Like us on Facebook and follow us for announcements and upcoming events!