Although the end of the school year didn't go exactly as planned, the IRC in Atlanta's Youth Futures and Connect to Success programs still had lots to celebrate! 46 IRC students graduated from high school in the Class of 2020. These seniors have shown incredible work ethic and dedication throughout their high school journey and have collectively earned 69 college acceptances so far!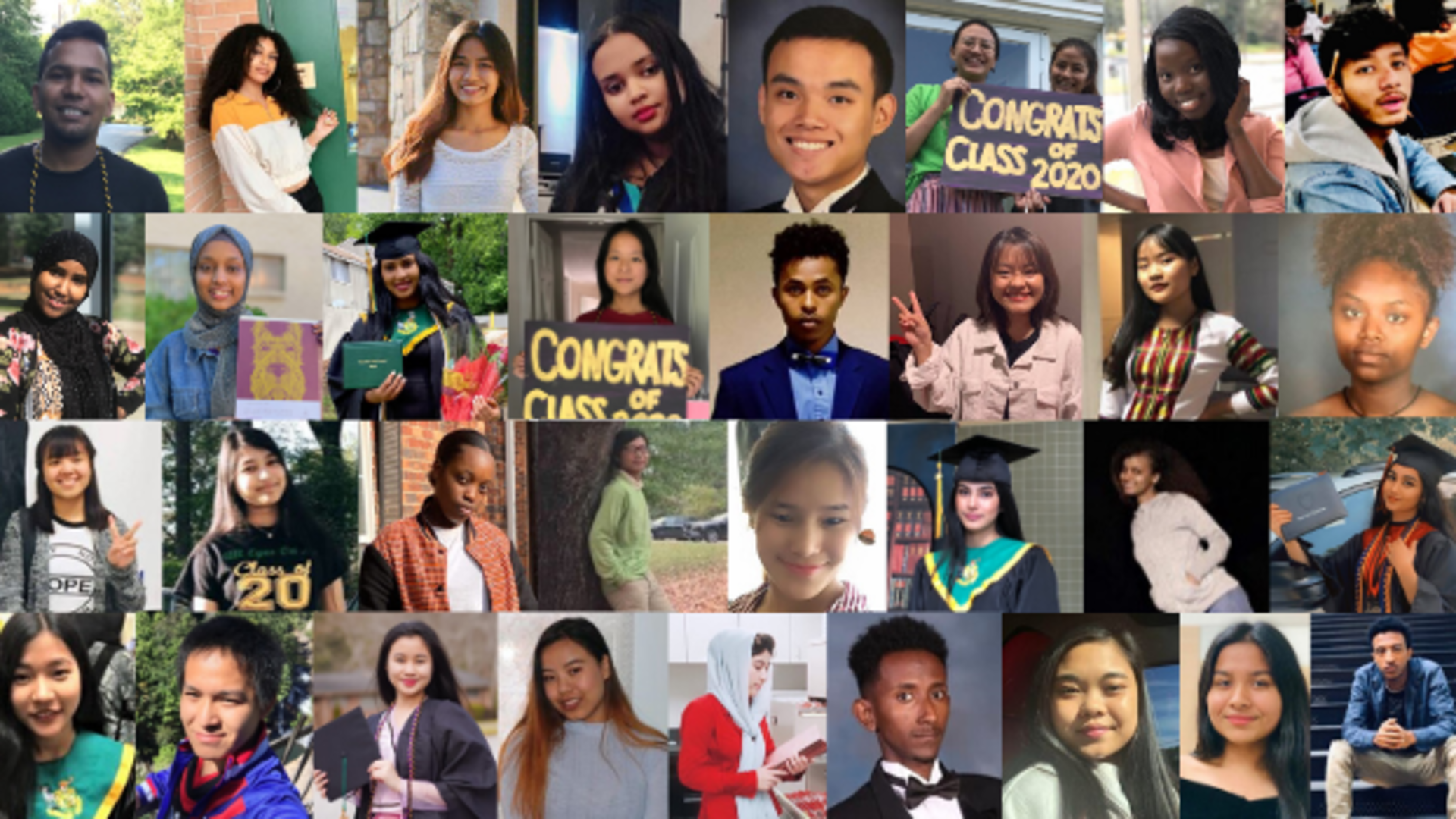 "It's that time of the year again for celebrations and goodbyes," said Sharita Khatiwada, the IRC's Connect to Success Program Coordinator. "We have been truly honored to know some of the most hardworking students who balanced family responsibilities, extracurricular activities, volunteer work, internships, and part-time jobs while attending our program and striving to do their best in school."
Of our 46 graduating seniors, 42 chose to apply for college with the support of Ms. Sharita, Ms. Cait, the IRC's Student Support Specialist, Mr. Michel, the IRC's Youth Futures AmeriCorps, and our amazing partners at Step Ahead Scholars. 40 have been accepted to at least one college so far, and those remaining are still actively working on their applications.  
Collectively, our students have received 57 acceptances to the following colleges:
Agnes Scott College, Berry College, Brenau University, Birmingham-Southern College, Georgia Gwinnett College, Georgia Southern University, Georgia State University, Goucher College, Gwynedd Mercy University, Hampshire College, Kennesaw State University, Knox College, Luther College, Mercer University, Savannah State University, Spelman College, Saint Mary's College of Maryland, Toccoa Falls College, Truett McConnell University, University of New Orleans, and University of West Georgia.
Some of our graduating seniors have been enrolled in the IRC in Atlanta's Youth programs since they first arrived in the U.S. Bor Chin Tial, Olive Murekatete, Ngun Dawt Par, Ruqayah Al-Hamadani, Sant Tuet, Selly Htoo and Tamana Hashmi all started in the IRC's My New School program after their families were resettled in Atlanta, where they received cultural orientation from Mr. Omar and went on their first American field trip. These students would go on to participate in the IRC's Youth Futures afterschool program, New Roots Garden Club and Ready, Set, College! Summer Camp.
Valedictorian and Scholarship Recipients
This year, we are thrilled to announce that IRC Youth Futures student, Tewodros Fisseha, was selected as the Clarkston High School Valedictorian! Tewodros has been a part of the Youth Futures program for the past three years and has achieved so much despite facing many personal challenges. Another IRC Youth Futures student, Selly Htoo, was included in the Top 10 of the Clarkston High School graduating class and received the Asian and Pacific Islander Scholarship. Additionally, two Youth Futures students, Banna Fiwi and Lydia Gnakal, were awarded the State Farm Lyft Scholarship and have already commenced their college career at Georgia State University this summer.
"My parents have sacrificed their lives for their children to have a better life, so when I become a teacher, I will take care of them for all of their sacrifices."
Graduating senior, Htoo Meh, has been enrolled in the IRC in Atlanta's Youth Futures and New Roots programs since her freshman year at Clarkston High School. She also attended two years of the IRC's Ready, Set, College! Summer Camp and visited several college campuses. Htoo Meh's dream is to become a teacher. "Teachers can be a critical part of a student's life, they can set students on the right path and guide them through challenges," she said. "When I started high school, I saw how hard some of my teachers worked and how much they cared for their students, including me. I was a student who needed extra assistance, and some teachers treated me equally as everyone else. They spent so much time planning their lessons, teaching classes and even staying late after school to help students who needed it. My love for helping other students the way that my teachers did, and my strengths in math, have inspired me to become a high school math teacher."
Htoo Meh has been accepted to Georgia State University and will start her college career in Fall 2020. She shared, "My parents have sacrificed their lives for their children to have a better life, so when I become a teacher, I will take care of them for all of their sacrifices. I feel so good about how I have made it this far and I am excited about my future." We are so proud of Htoo Meh for all her hard work and accomplishments!
Class of 2020 - IRC Youth Futures Seniors
Banna Fiwi, Bor Chin Tial, Danait Kebedom, David Tran, Doreen James, Eric Shahzad, Fardowsa Abdikadir Mohamud, Fayo Urgresa, Genet Kebedom, Htoo Meh, Jennifer Pham, Kassahun Wortewa, Khadija Bello, Khin Si, Khawl Nu, Kidus Nedi, Lydia Gnakal, Ngun Dawt Par, Ni Sui Biak, Nisa Katwal, Nursharifah Ahmedkabir, Olive Murekatete, Pau En Lian, Pko Ku, Ruqayah Al-Hamadani, Samjana Mangar, Say Paw Wah, Sant Tuet, Selly Htoo, Siham Abdulahab, Susmita Magar, Tamana Hashmi, Tewodros Fisseha, Tha Zin Paw, Tirsana Biswa, Veda Mulugeta, Yakub Abadiga and Zubaida Iman.
Class of 2020 – IRC Connect to Success Seniors
Abdul Jatba Bin Abdul Samad, Anour Husin, Asifa Mirzad, Aung May Oo, Htoo Say, Isaie Ngendahayo, Zainab Mirzad and Zaw La Kar.
Please join us in congratulating these amazing graduates! We are incredibly proud of their accomplishments and can't wait to see all they will continue to achieve in the future.
To learn more about the work of the IRC in Atlanta and for information on how you can get involved with the IRC as a donor or volunteer, please contact Development Director, Marian Dickson, at Marian.Dickson [at] Rescue.org or 601-310-3174.
Stay connected to the IRC in Atlanta! Like us on Facebook and follow us on Instagram for announcements and upcoming events!