Last week, the IRC in Atlanta held an Emergency Town Hall meeting to bring community supporters together to discuss the impact of the President's recent executive orders. More than 200 people came out to show support for the refugee resettlement program, learn how to advocate for refugees in Georgia, and to enjoy dinner and refreshments from our friends at Gyro Chef Food Trucks and Refugee Coffee Co.
IRC in Atlanta's executive director, J.D. McCrary, and deputy director, Justin Howell, kicked off the panel discussion by providing an update on the executive orders and the impact on new refugee arrivals, and were thrilled to share the then breaking news that the 9th Circuit Court of Appeals had ruled against reinstating the President's travel ban. They emphasized the importance of advocating for refugees, encouraging attendees to contact their elected officials to ask them to oppose the executive order and to let them know that refugees are welcome in their communities. Dr. Heval Kelli and Qasim Karimi then shared their perspectives, as former refugees, on the resettlement process and the importance of community support.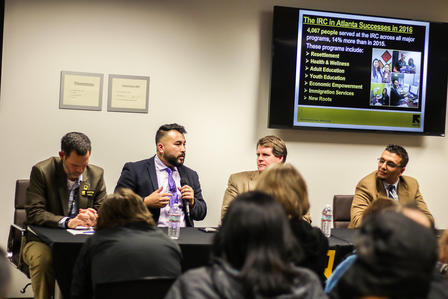 Dr. Heval Kelli, now a cardiology fellow at Emory University Hospital, told his personal story of arriving in Atlanta with his family as a young refugee from Syria back in 2001. He stressed his gratitude for the agencies and the American people who welcomed his family with open arms, helping to ease the difficult process of adjusting to life in a new country.
"Now, I am an American and this is my country," said Heval. "Refugees are investments not victims. If you want to invest in refugees, you must invest in agencies, like the IRC, that support them."
Qasim Karimi, a branch manager of a local Sun Trust bank, was resettled by the IRC in Atlanta in 2000 at the age of 13, after his family were forced to flee from persecution in their native Afghanistan. As Qasim shared his story, he impressed upon the audience the need to advocate and stand up for America's founding rights, like religious freedom, in light of the recent actions taken by the White House. "If we continue to allow it to happen, these rights will be taken away from us," he cautioned.
Following the panel discussion, the Emergency Town Hall concluded with an impassioned Q&A, where community members expressed further concerns about the executive orders and asked questions about the resettlement program in Georgia, volunteer opportunities at the IRC in Atlanta, and ways their faith and community groups could support refugees.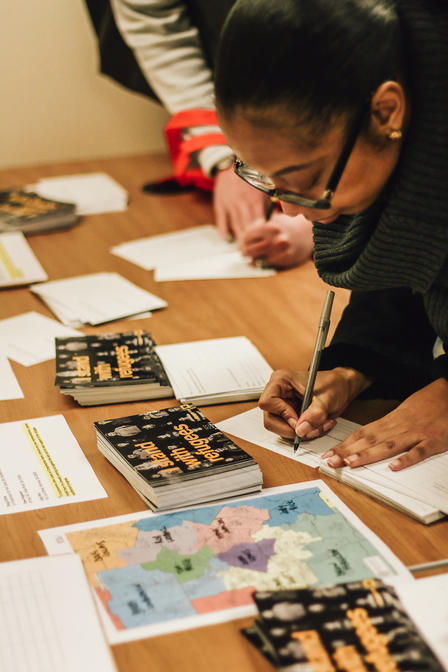 Many attendees were children of refugees and immigrants, or former refugees themselves. One woman described how her father fled Iran after the revolution, and another shared the story of her father escaping fascist Austria during World War II. There was strong consensus across the room that the refugee resettlement program is a proud tradition in this country, aligned with our national values of freedom and opportunity, and we must do everything we can to welcome and support refugees in our community. We are pleased to say that the hospitality the south has long been known for is still very much alive and well here in Atlanta. 
The IRC in Atlanta would like to thank Crystal Anne Photo for the beautiful photographs of this event. 
To learn more about the work of the IRC in Atlanta and for information on how you can get involved with the IRC as a donor or volunteer, please contact Daniel Hammond, Development Manager, at Daniel.Hammond [at] Rescue.org or 678-636-8930.
Stay connected to the IRC in Atlanta! Like us on Facebook and follow us for announcements and upcoming events!