October is Domestic Violence Awareness Month. This month and every month, the International Rescue Committee (IRC) is educating staff about domestic violence and providing essential services to survivors of domestic violence. Domestic Violence Awareness Month is a time for all of us to speak up about domestic violence, raise awareness, and support survivors of this devastating but common issue.
This event was first observed in October 1981 as a national Day of Unity started by the National Coalition Against Domestic Violence. 
Domestic violence can happen to anyone and it is present in every community, regardless of age, gender, sexual orientation, race, socioeconomic status, religion, or nationality.
According to the National Coalition Against Domestic Violence, "Domestic violence is the willful intimidation, physical assault, battery, sexual assault, and/or other abusive behavior as part of a systematic pattern of power and control perpetrated by one intimate partner against another. It includes physical violence, sexual violence, threats, economic, and emotional/psychological abuse. The frequency and severity of domestic violence varies dramatically."
In the United States, over 10 million adults experience domestic violence annually. Based on the Arizona Coalition to End Sexual and Domestic Violence's reports, one in four women and one in ten  men will experience domestic violence in their lives. On a typical day, domestic violence hotlines nationwide receive over 19,000 calls.
Domestic violence has significant impacts on survivors including physical injury, psychological trauma, and even death. In 2015, at least 107 people were killed in domestic violence related homicides in
Arizona. Domestic violence also has negative impacts on the wider society. Intimate partner violence is estimated to cost the US between $5.8 and $12.6 billion annually in such expenses as increased health care costs and lost productivity at work.
The COVID-19 pandemic and the accompanying lock-downs, social distancing, and other mitigation measures have only exacerbated domestic violence. Historically, domestic violence has increased during pandemics and economic crises, both of which we are experiencing right now, and this time is no different. Worldwide, incidences of domestic violence are increasing while the usual escapes for survivors – shelters, police restraining orders, friends and family, and others may not be accessible now due to fears of contracting and/or spreading the virus, social distancing, and limited services.
Therefore, it is more important than ever to raise awareness about domestic violence and know the warning signs of abuse.
Warning Signs of Partner Abuse in a Relationship:
Telling you that you never do anything right.
Showing extreme jealousy of your friends and time spent away from them.
Preventing or discouraging you from spending time with friends, family members, or peers.
Insulting, demeaning, or shaming you, especially in front of other people.
Preventing you from making your own decisions, including about working or attending school.
Controlling finances in the household without discussion, including taking your money or refusing to provide money for necessary expenses.
Pressuring you to have sex or perform sexual acts you're not comfortable with.
Pressuring you to use drugs or alcohol.
Intimidating you through threatening looks or actions.
Insulting your parenting or threatening to harm or take away your children or pets.
Intimidating you with weapons like guns, knives, bats, or mace.
Destroying your belongings or your home.
If someone you know is experiencing domestic violence and you are someone they know and trust, talk to them about what they want. You can help them create a safety plan that will help the survivor to prepare for emergency situations. The National Domestic Hotline offers free templates online. Do not make decisions for the survivor of domestic violence but you can always inform them of all their options, including reporting and getting help. The National Domestic Hotline has advocates available 24/7 at 1.800.787.3244 or to chat live online here. The Arizona Coalition to End Sexual & Domestic Violence also offers resources on their website and maintains a hotline, 1.800.782.6400.
The IRC continues to support survivors of domestic violence in Arizona. The IRC office in Phoenix participates in the Bridge to Safety Project (B2S). This project aims to provide a safe space for refugee and immigrant women to disclose experiences of domestic violence to IRC staff and enable staff to effectively respond to disclosures with support and connections to external services to address needs such as shelter, medical, mental health, and legal assistance. At the IRC, we are all dedicated to providing our clients with the support, care, and access to crucial services that they need in order to thrive in our communities, regardless of their background and experiences.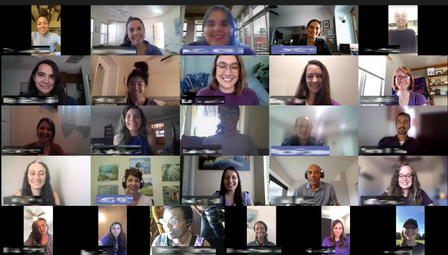 Still, there is always more to learn and we are doing our part to continue to learn about domestic violence and raise awareness about this important issue. In the Tucson office, staff participated in a virtual training to learn about domestic violence. Everyone wore purple in solidarity with survivors of domestic violence. 
Domestic violence is often considered a hidden issue that happens behind closed doors but it doesn't have to be that way. Raise awareness about the signs of domestic violence. Talk to your friends and family, coworkers, and neighbors. Together, we can end domestic violence.