The Rohingya people, originating in Burma, are one of the most persecuted minorities in the world. Despite the establishment of generations of Rohingya in Burma, the group has become subject to discriminatory policies and state-sanctioned abuses that have led them to be known as a stateless people. Ambiya, a Rohingyan woman, was forced to flee after the Burmese government revoked her citizenship, seized her property, and a denied services and education.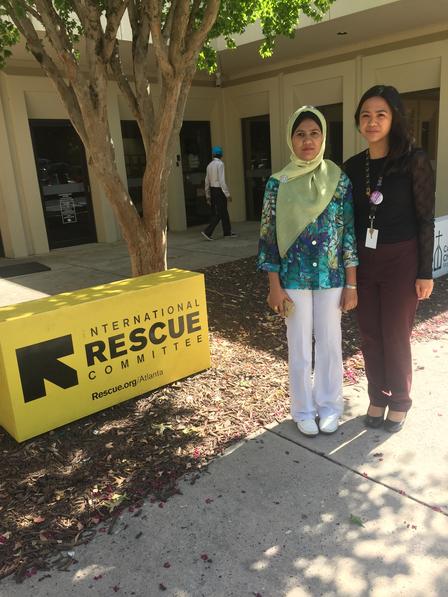 After finally arriving in the United States with her family, Ambiya came to the IRC in Atlanta to receive behavioral and mental health services. The IRC in Atlanta has identified access to mental health services as vital to the personal well-being of refugees and, with the help of the Atlanta's Women's Foundation, has created a mental health screening and referral program for newly-arrived refugee women.
After Ambiya met with her case worker, she received a health and wellness screening and began attending group therapy sessions and classes once a week at Positive Growth Intervention and Education Center, a community-based behavioral and mental health agency that provides services for refugee families. At Positive Growth, Ambiya has become oriented to American culture and civics. "They teach us how to take the citizenship test, laws about this country, speaking [English], and this week we are learning how to use a computer." As Ambiya herself explains she feels confident and empowered. "I don't need to stay at home. I meet people, exchange culture, take care of my stress, and know how to deal with emergencies. Thank you."
Ambiya is hopeful for the future as she continues to receive the services she needs through the IRC in Atlanta.
To learn more about the IRC in Atlanta's Health and Wellness Program, contact Alison Spitz at Alison.Spitz [at] Rescue.org. To learn more about the work of the IRC in Atlanta and for information on how you can get involved with the IRC as a donor or volunteer, please contact Justin Howell, Development Manager, at Justin.Howell [at] Rescue.org or 678 636 8929.
Stay connected to the IRC in Atlanta! Like us on Facebook and follow us for announcements and upcoming events!