In November 2016, Kaltum, chef at Mother of All and a Spice Kitchen Incubator entrepreneur, took a major step to fulfilling her life's dream: she purchased a food truck. Since 2014, Kaltum worked diligently with Spice Kitchen staff to develop her business and sell Sudanese food in Salt Lake City. She dreamed of sharing her culture through traditional Sudanese cuisine and owning a food truck will allow her to continue toward achieving her dream.  
Kaltum took advantage of multiple services offered by Spice Kitchen Incubator and IRC's Economic Empowerment team to reach her goal. She attended financial literacy classes learning the intricacies of personal and small business budgeting. Kaltum continued to work with the small business program, obtaining funds available for refugee entrepreneurs.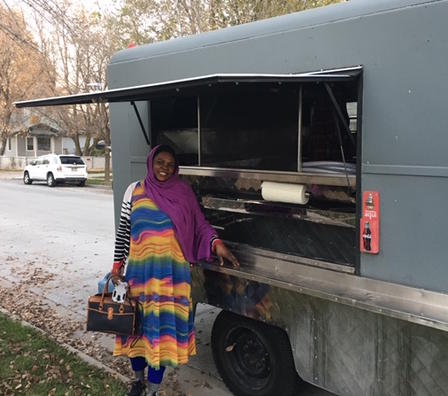 The IRC's Economic Empowerment team offers a wide portfolio of services, including interest-free small business loans and IDA matched savings accounts. Kaltum received a small business loan to complete her certification and licensing requirements in addition to purchasing basic kitchen equipment. After paying off her loan, she set her sights on a loftier goal: saving $4,000 to be matched by the IRC's matched savings program. Within a short time, Kaltum reached her savings goal, applied for another small business loan, and purchased her food truck, the first mobile food unit owned by a Spice Kitchen entrepreneur! 
Look forward to Kaltum's smiling face peering from her food truck soon serving up delicious Sudanese treats. Until then, Kaltum and other Spice Kitchen entrepreneurs cater events of all sizes. Learn more about hiring refugee and immigrant entrepreneurs to cater your next event!