Stand with us and urge your elected officials to fight for refugees.
CALL 1-855-472-8930 to take action
In response to the Supreme Court's partial reinstatement of President Trump's travel ban, please stand with us and urge your elected officials to fight for all refugees and protect families seeking reunification.
Earlier this week the Supreme Court decided it would hear the case for the President's misguided travel ban this fall.  In the meantime, the Court has allowed the refugee and travel ban to go into effect with exceptions for a limited few that the Trump Administration is determining in the narrowest of terms. Even people who worked for the US military will be victims of this narrow interpretation. We saw earlier this year the heart-wrenching separation of families with loved ones trapped at airports.  We need you to fight back again.  These destructive policies do not represent American family values.
The US refugee admissions program was originally designed as a last resort for the most desperate and the most at risk who have been victimized by war, violence and oppression.  As Americans, we stand up for the weak.  We make decisions based on what is right.  We step up to help when we see people in trouble.  For decades America has been a shining example of opportunity and freedom. We do not qualify certain family relationships as holding more weight than others.  Refugees do not choose the situations leading to resettlement, and we as a nation are better for welcoming them here.   Like many of our ancestors, refugees come to the United States with nothing but their dignity, hope and determination.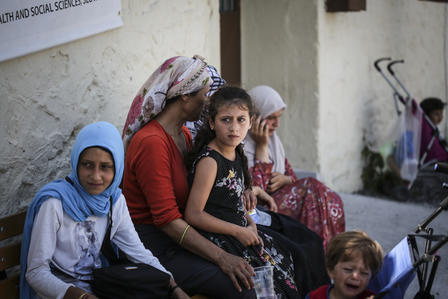 Congress returns to your home district from Washington today. Tell them your community is a welcoming place.  
Urge them to tell President Trump they believe in an America that sets an example for the world and that they support the refugee program. ​Call 1-855-472-8930
Stay connected to make three calls to be connected with your Representative and both of your Senators.
Sample Script:
My name is _ and I am a constituent living in _ and I support refugee resettlement. I am calling to urge Representative/Senator _ to protect families in the resettlement program who are waiting to arrive and be reunited. Please let the President know that you oppose family separation, and you want more refugees to come this year and next.
If you have not called your elected officials before, don't worry, it's easy to do. Often times you will leave a voicemail message.
Next, share this message on social media:
Sample tweet: In response to President Trump's travel ban, stand with @theIRC. Urge your elected officials protect refugee families today: [LINK]
Sample FB post: In response to President Trump's travel ban, stand with the @International Rescue Committee. Urge your elected officials to protect refugee families & tell President Trump they support the refugee resettlement program. [LINK]