Through the IRC in San Jose's varied volunteer opportunities, individuals are able to share their unique experience and expertise directly with the IRC's refugee and asylee clients in the Bay Area.
We currently operate several highly effective programs designed to meet a variety of refugee and asylee newcomers' needs, and volunteers are needed across all departments to help deliver programming and ensure quality services. If you are a current student or recent graduate, visit our internship page to learn more about available opportunities.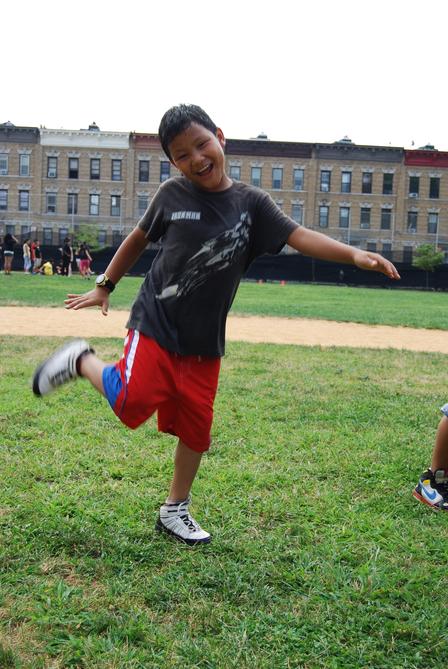 Jump to a Description
Procedure
Review IRC San Jose's general volunteer opportunities; please note that the opportunities listed below may or may not be currently available. Applications are accepted year round on a rolling basis.
Sign up for and attend a volunteer information session. These sessions will cover IRC's client base, programs and services, and current opportunities. Space at each information session is limited—IRC staff will email you confirmation of your registration after you sign up.
Complete an online application and upload your resume to the application. To expedite the application process, fill in the "Interests and Questions" section as completely as possible. IRC staff will contact you when there is an available placement matching your skills, interests and availability.
Complete an interview with IRC staff.
After accepting a volunteer position, complete an online background check. All IRC volunteer opportunities are contingent on the results of the background check.
Important notes
All volunteers must be 18+ years old.
Most of our volunteer opportunities take place during regular business hours (Monday-Friday 9:00 a.m. to 4:00 p.m.). We do not currently have any evening or weekend volunteer opportunities.
Our 4-month minimum commitment ensures ample time for volunteers to move beyond training and into meaningful work. Additionally, it provides stability to our clients' lives as they can expect to work with the same volunteer consistently.
To protect our clients, volunteers are asked to complete a background check, and we ask volunteers to contribute $40.00 to offset its costs. Over 90% of our funding goes directly to our clients, and your help to cover this cost allows us to continue providing the best service possible.
Due to the high volume of interest, we are unable to respond to phone, drop-in or other individual inquiries regarding current opportunities.
General volunteer opportunities
Help manage the front desk by greeting clients and helping them access services and staff.
Responsibilities: Answer phones, take messages, receive visiting clients, schedule appointments, and respond to general questions about the IRC. Volunteers may also be asked to provide IT support as needed.
Availability: One 4-hour shift/week; daily shifts 9:00 a.m. – 1:00 p.m. and 1:00 p.m. – 5:00 p.m.
Help with donations the office receives and deliver care packages to clients.
Responsibilities: Sort and organize incoming donations and assemble family welcome packages and specific donation requests. Log distribution of donations to clients with staff members.
Availability: Friday 1:00-3:00 p.m.
Coach newly arrived refugees in search of employment.
Responsibilities: Assist clients to create resumes, fill out job applications, practice interview skills, and understand U.S. work culture.
Availability: 10-20 hours/week on Monday-Friday 9:00 a.m. to 12:00 p.m.
Work with clients enrolled in vocational ESL class by planning and leading ESL classes.
Responsibilities: Provide support to English classes focused on employment and vocational language learning.
Availability: 10-20 hours/week on Monday-Friday 9:00 a.m. to 12:00 p.m.
Enable clients to become financially self-sufficient.
Responsibilities: Contribute to Job Readiness classes and curriculum, which provide workshops on resume writing, mock interviews, and job search skills. Facilitate financial literacy classes.
Availability: 10-20 hours/week
Help clients apply for permanent residency, citizenship, family reunification and more.
Responsibilities: Support immigration staff with case management, client follow-up, database management, community outreach and education, and applications at citizenship workshops.
Availability: 15+ hours/week
Outreach Support
Help clients apply for citizenship at workshops and assist the Outreach Specialist to promote upcoming immigration events. 
Responsibilities: Support outreach staff with community outreach and education and applications at citizenship workshops.
Availability: No strict time committment per week. 
Help refugee clients settle into their new lives in the United States.
Responsibilities: Assist with core services, including enrollment in schools and social service programs, apartment set-ups, and other case management-related tasks. Reliable vehicle, valid driver's license, current auto insurance and clean driving record required.
Availability: 15+ hours/week
The only department at IRC San Jose that has evening or weekend volunteer opportunities is the Immigration and Outreach Program. If you are interested to learn more about these opportunities please attend a volunteer information session. If you are interested in being put on the prospective mentor list, please complete an application and an IRC staff member will contact you with more information when the program is reactivated.
Mentor a Refugee
Guide a refugee or asylee through the resettlement process by visiting their home, helping them with the job search, practicing English with them and providing insight into American culture.
Responsibilities: Visit your mentee's home, help with job search, practice English and provide insight into American culture.
Availability: 2-3 hours/week for 3-6 months
Requirements: Participation in mentor orientation in addition to the general volunteer orientation.