The past year has been disastrous for Afghanistan as the country's civil war reignited. After almost 40 years of conflict stretching back to the Soviet invasion in 1979, Afghanistan is once again on the international emergency watch list.
As we mark the fifteenth anniversary of 9/11, the event that precipitated the NATO-led effort to defeat Al Qaeda and the Taliban, here's what you need to know about the current situation in Afghanistan:
1. Civilian casualties hit a record in 2015.
The fighting in Afghanistan is far from over. Last year saw 11,000 civilian deaths and injuries (one in four have been children), a record set to be eclipsed this year, according to the United Nations Assistance Mission.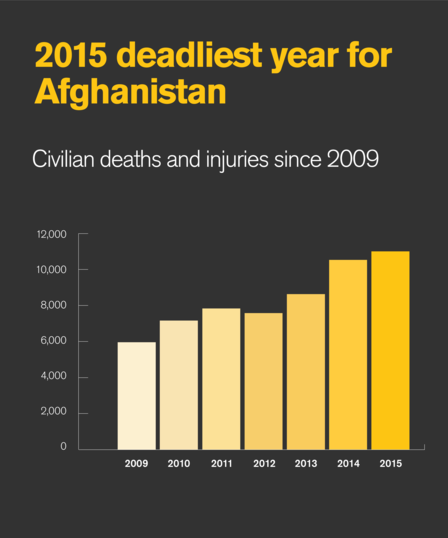 Violence across the country is escalating at an alarming rate. The Taliban, at their strongest since 2001, are leading insurgencies in volatile provinces such as Helmand in the south and Kunduz in the north. ISIS, a new foe, is securing its presence with the gruesome tactics employed in Syria and Iraq: a July suicide attack in Kabul, the nation's capital, killed 80 people and injured 231.
2. Afghans make up the world's second largest refugee population.
When the Taliban retreated in 2001, nearly 6 million Afghan refugees, the vast majority in exile for decades, voluntarily returned to Afghanistan. But as fighting resumed, 2.7 million Afghans have fled their homes, the largest group of refugees after Syrians.
Most Afghans seek safety in neighboring Pakistan and Iran, but many journey to Turkey to brave the sea crossing to Europe, where they are seen as "economic migrants" fleeing poverty rather than war and persecution. They thus remain ineligible for relocation and many wait interminably to apply for asylum.
Gulbagon*, 52, lost her husband to a Taliban attack and a daughter to a forced child marriage. She knows all too well that it is not only war pushing Afghans to leave. "There are attacks on women, she says. "There is child marriage. Men who protect the women are killed."  
She fled to Turkey when a male relative tried to marry off her 13-year-old niece Masuma. Smugglers held Gulbagon and Masuma and other family members to ransom for forty days until they were finally freed. The family crossed the Aegean Sea to Greece where they remain in limbo.
3. Afghanistan is the world's deadliest country for aid workers.
Recent attacks against aid agencies in Afghanistan show how perilous the country has become for humanitarian workers. According to the 2016 Aid Worker Security Report, 101 were victims of major attacks last year, with kidnapping most prevalent.
"Violations of international humanitarian law continue by various parties to the conflict, making Afghanistan not only the world's most dangerous setting for humanitarian and medical workers, but perpetuating the suffering of a population that has suffered enough," IRC President and CEO David Miliband wrote in a commentary published by CNN.
4. We need to invest in better humanitarian aid.
A staggering 8 million Afghans are in need of lifesaving humanitarian assistance, a population greater than Paris, San Francisco and Los Angeles combined. This year's United Nations appeal, for a modest $339 million, is barely 40 percent funded.
Every Afghan in need receives just $16 a year. More efficient and effective forms of aid such as cash relief and locally led projects are desperately needed to allow Afghans to drive their own goals for the future from rehabilitating health care systems to building new schools.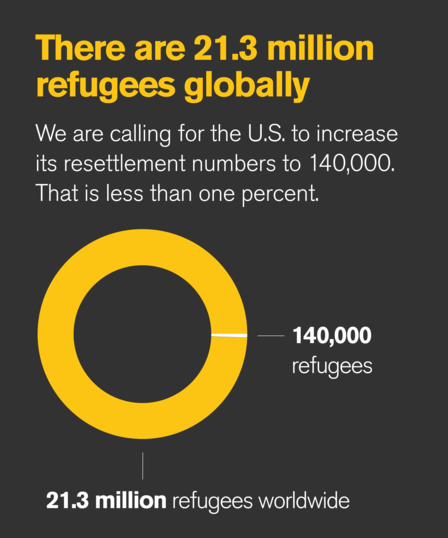 September marks an important moment as global leaders and the United Nations convene to respond to the unparalleled worldwide refugee and displacement crisis.
The IRC is calling on the U.S. to double its current commitment and resettle a total of 140,000 refugees in 2017, and on the EU to commit to resettling 540,000 over the next five years.
*Name changed to protect privacy
Learn more
Read more about our work in Afghanistan.
Get involved