Time:
1:30pm - 4:30pm
PDT
Ready to become an American citizen? Register for this workshop on May 12th to get trusted help completing your citizenship application and fee waiver form. Transportation passes, food, and drinks will be provided! You can register online or by phone at (408) 658-9206.
The International Rescue Committee is recognized by the U.S. Department of Justice to provide citizenship and immigration legal services. We can help you apply for naturalization so you can access all the privileges and protections that come along with being an American citizen, including: the right to vote, security against deportation, ability to bring more family to the U.S., and increased job opportunities.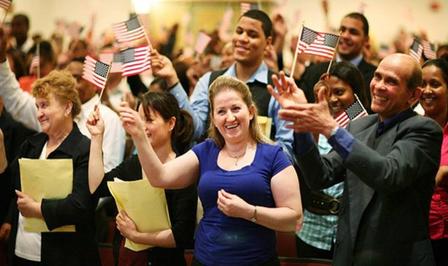 Skip to a Section:
Event details
At this workshop, we will complete your Citizenship Application (N-400) and Fee Waiver or Reduced Fee request (if applicable). Afterwards and throughout the entire naturalization process, our Department of Justice accredited staff will follow-up with the status of your case and serve as your legal representative with USCIS. Registration is required for this workshop and early registration is encouraged due to limited space. To secure a spot, register online or call (408) 658-9206.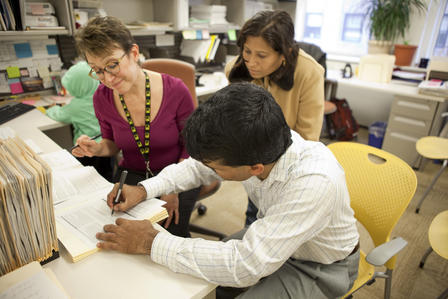 Date & Time
Friday May 12, 2017, 1:30pm - 4:30pm
Location
888 Brannan St., San Francisco, CA 94103  Click for Map
Documents to bring
Your Legal Permanent Resident Card ("Green Card")
Your Social Security Card (or a copy)
Your Driver's license or State-issued ID
List of all trips you took outside of the U.S. since you became a permanent resident
List of all your addresses for the last 5 years (with dates of move in and out)
List of all your employers or schools for the last 5 years (with addresses and dates of starting and ending)
List of all your children (including adopted, missing, deceased, and step children) with current addresses, Alien numbers (if applicable), dates of birth, and countries of birth
List of all your marriages and your current spouse's prior marriages (if applicable), including names of spouses, dates of marriage, and dates of termination of marriage
Information about your parents, if they are U.S. citizens
If you've ever been arrested, been to court, had a conviction, had immigration problems, or traffic violations, bring a list of incidents and obtain your Certified Court Dispositions (or DMV records for traffic offenses)
Payment to USCIS: check, cashier's check, or money order for $725 payable to "U.S. Department of Homeland Security." Credit card payment is also accepted. However, if you receive public assistance such as SSI, Medi-Cal, Cal-Fresh (SNAP/ "Food stamps"), Temporary Assistance for Needy Families (TANF), CalWORKs, Healthy Families (SCHIP) or your household earns is very low income, you qualify to request a full fee waiver or reduced fee. 
For Fee Waiver or Reduced Fee requests, bring a "Verification of Benefits" or "Notice of Action" letter from the county Department of Human Services or bring proof of low income (recent tax returns and pay stubs for all working members of the household). 
Contact information 
For any questions, contact the organizers:
Kayla Ladd
Community Outreach Specialist
(408) 277-0255 Ext. 21
Kayla.Ladd [at] Rescue.org
Emmir Escorcia
*Se habla español
Immigration Caseworker
(408) 277-0255 Ext. 18
Emmir.Escorcia [at] Rescue.org