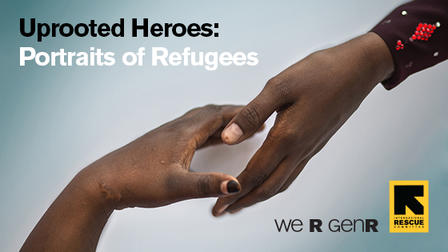 The Uprooted Heroes: Portraits of Refugees Photography Exhibition and Reception showcases compelling photos of resilient and courageous individuals who are breaking down the stereotypes of what it means to be a refugee. 
Sip on cocktails and enjoy appetizers from some of LA's favorite restaurants.
When: 
Wednesday, June 7, 2017
VIP Reception begins at 6:30 pm 
General admission at 7:00 pm 
Where: 
GreenBar Distillery 
2459 E 8th St., 
Los Angeles, California 90021
The non-tax deductible amount of each ticket is $15.
Share this event with your friends on Facebook. 
For more information, please contact us at GenR [at] Rescue.org or 212.551.2734.
Event Co-Chairs:
Samantha Becker, Jessica Nickelsberg, Jennifer Rundle, Callie Spaide, Susan Vong, Joanna Wisniecka
GenR: LA Leadership Committee
Heriselda Begaj, Trace Biskin, Amin El Gamal, Michele Pashaie Glaspy, Padraic Glaspy, Josh Koenig, Martine Moore, Hannah Mora, Francesca Overwater, Michelle Pellizzon, Lindsay Thomas
Thank you to our sponsors: