The IRC in Midland, TX
The International Rescue Committee provides opportunities for refugees, asylees, victims of human trafficking, survivors of torture, and other immigrants to thrive in America. Each year, thousands of people, forced to flee violence and persecution, are welcomed by the people of the United States into the safety and freedom of America. These individuals have survived against incredible odds. The IRC works with government bodies, civil society actors, and local volunteers to help them translate their past experiences into assets that are valuable to their new communities. In Midland and other offices across the country, the IRC helps them to rebuild their lives.
Who are refugees?
Refugees are people fleeing violence and persecution—in Myanmar, Cuba, Iraq, and other countries in crisis. They are seeking safety and the chance to move their lives forward.
Why are refugees arriving in Midland?
The United States has a long tradition of sheltering those fleeing conflict and persecution. Once refugees have been identified by the United Nations refugee agency and cleared for resettlement, the U.S. government works with the IRC and eight other national resettlement agencies to help them restart their lives in America. Out of the nearly 20 million refugees in the world, fewer than 1 percent are considered for resettlement worldwide.
Refugees may be placed in a city where they have relatives or friends, or where there's an established community that shares their language or culture. Other considerations include the cost of living and a community's ability to provide medical services. However, as legal U.S. residents, refugees may live in any city and state they chose.
Learn more about how refugee resettlement works.
How does the IRC help refugees in Midland?
Our programs are designed to ensure refugees thrive in America--whether ensuring children are enrolled in school, adults become self-reliant through employment or starting businesses, or families receive acute medical care they need to recover from trauma or illness. The IRC helps those in need to rebuild their lives and regain control of their future in their new home community.
Refugees are greeted and welcomed at the airport by IRC case workers and volunteers to ensure their transition is as comfortable as possible. The IRC also makes sure newly arrived refugees receive:
Help with rent
Health care
Nutritious, affordable food
Help building job, computer, and financial literacy skills
Education for their children
Social services and community support
Legal services towards residency and citizenship
Our programs in Midland:
Reception & Placement Services
Employment Services
Short term financial Assistance
Volunteer & Internship Programs
Monthly Immigration Workshops
What services does the IRC provide to the wider community?
The IRC in Midland opened in late April 2016. The office provides community presentations on refugees and trainings on cross-cultural communication, assist with interpretation needs and internship opportunities for students. 
How can I help refugees in Midland?
There are many ways that you can get involved with the IRC's work in Midland. You can:
Donate: Give a tax-deductible financial contribution either via the website or sent to our office.
Volunteer Process and Opportunities: Learn how to become an IRC volunteer and see our current list of volunteer opportunities here.
Internship Opportunities: See our current list of internship opportunities here.
New or Gently Used Items Needed for Refugees: We're collecting household supplies and school supplies for newly arrived refugees. See how you can help.
Spread the Word: Consider hosting your own Fundraising Campaign (on- or offline). Stay connected via our newsletter, follow us on Facebook, and ask others to do the same!
Other Ways to Get Involved: Employ refugees, or connect us to affordable housing options
What do refugees contribute to Midland?
Once they acclimate to their new environment, refugees often thrive and contribute to their communities, building careers, purchasing homes, gaining citizenship.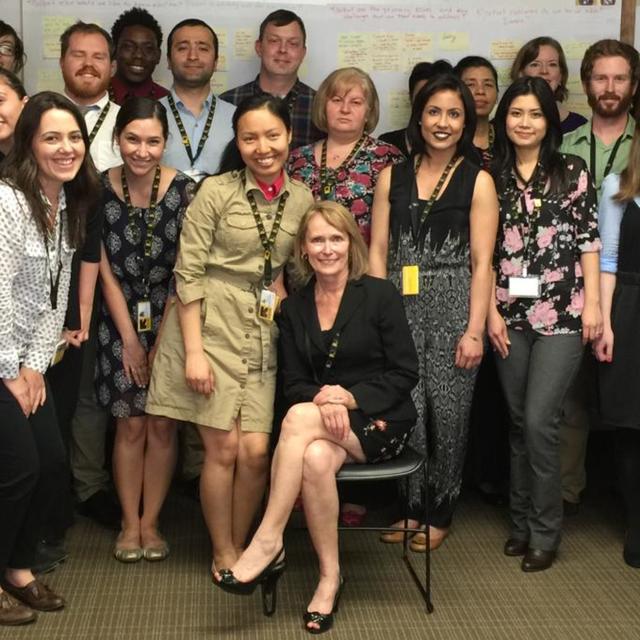 Our mission is to empower refugees to rebuild their lives, restore their sense of dignity, and fully participate in their new communities by providing compassionate support, resources and programs tailored to their unique needs. I urge you to join us in our efforts and encourage you to visit our website often. On behalf of the IRC in Dallas and Abilene staff, and the refugees we serve, you have my deepest gratitude. We are truly grateful for your support.

Donna Duvin

Donna Duvin is director of the IRC's Midland office.
26 million
people worldwide to benefit from IRC humanitarian programs and those of our partners.
The IRC offers high-quality, low-cost immigration legal services and citizenship assistance in 22 cities across the U.S.
Learn more about immigration
13,400
newly arrived refugees who have been offered sanctuary by the United States to resettle in their new communities.
13,000
refugees from East Asia to resettle in the U.S. through the Resettlement Support Center in Thailand and Malaysia.
We help refugees prepare paperwork, facilitate interviews with U.S government officials, and, once they have been accepted for resettlement, schedule medical screening and take cultural orientation classes.
Learn more