Applying for citizenship can be a daunting process for refugees and immigrants. As a citizenship workshop volunteer, you will assist clients with completing their citizenship applications (N-400) and fee waiver (I-912) or reduced fee (I-942) requests. 
How to Apply
Fill out an application online. In the section "Interests and Questions," ensure that you specify 'Citizenship Workshop Volunteer' as the top position that interests you. For any questions, please contact the Volunteer Coordinator at VolunteerSJ [at] Rescue.org (subject: Workshop%20Volunteer%20Inquiry, body: Name%3A%0APhone%20number%3A%20%0AMessage%3A) .  
Details
Training is provided to each volunteer prior to attending their first workshop. We have ongoing virtual workshops that occur approximately 1-2 times per week. Volunteers who are trained will receive a monthly email from the Community Outreach Coordinator with the upcoming month's volunteer dates.
Time Commitment 
Workshops are usually weekday evenings. Volunteers will receive a monthly email listing the opportunities they can sign up for in the upcoming month. 
Responsibilities
Assist clients with paperwork needed to obtain citizenship. Attend a training session to learn about citizenship paperwork.
Skills
Detail-oriented with an understanding of cross-cultural communication. Ability to handle sensitive information.
Importance of Citizenship
Becoming a U.S. citizen opens the door to many new opportunities, but a surprising number of eligible individuals do not apply because they are intimidated by the lenghy application process and don't know where to get help. Apply to volunteer today so you can help vulnerable populations access all the privileges and protections that come along with being an American citizen including: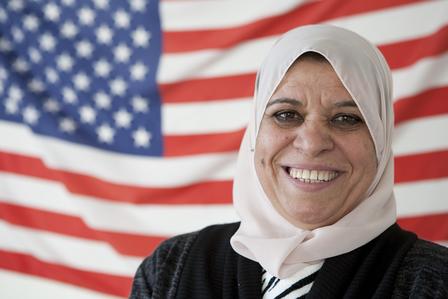 Voting and running for office
Security against deportation
Bringing more family to the U.S.
Increased job opportunities
Traveling with a U.S. passport
No more paperwork and fees
Access to public benefits
How IRC Helps
The International Rescue Committee (IRC) is an international non-profit organization founded in 1933 at the request of Albert Einstein. IRC is at work in more than 40 countries and 28 U.S. cities and each year our programs serve 23 million people worldwide. The American Institute of Philanthropy CharityWatch gives the IRC an A+ rating and Charity Navigator awarded the IRC its highest rating. 
Our comprehensive immigration services are available in 23 U.S. cities and are provided by qualified staff accredited by the U.S. Department of Justice. We can provide eligibility consultations, full case management services, and legal representation.