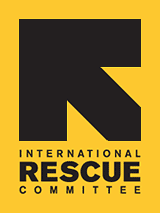 Since 1933, the IRC has provided hope and humanitarian aid to refugees and other victims of oppression and violent conflict around the world.
VOICES FROM THE FIELD
THE IRC BLOG
Why War Is Not Over When It's Over - Ann Jones in Sierra Leone

March 13, 2008
By The IRC
An IRC social worker met this 25-year-old woman in the Kailahun Hospital after she suffered a severe beating. Her husband inflicted the wounds visible here on her face and neck with a knife. Photo: Ann Jones
The International Rescue Committee is working with women's advocate Ann Jones to help women in war zones — survivors of conflict, displacement and sexual and domestic violence — use photography to make their voices heard. Learn more and read Ann's earlier posts here.Part 2 - Kailahun, Sierra Leone When a war ends and a country passes into the gray zone known as "post-conflict," IRC steps in with emergency relief and recovery programs, ranging from basic water and sanitation projects and school rehabilitation to programs in maternal health, child protection, education, good governance, and more. But to my way of thinking, GBV—the Gender-Based Violence Program—is at the heart of everything. No post-conflict country can truly "recover" or "develop" while its women and children still suffer. After all, if women and children really counted, they'd have to count as the overwhelming majority of human beings on the planet. Most of the world's children are in the care of women. As women fare, so fare children. As children fare, so fares the country in the future. That's why GBV is so important. It's not a "women's issue"—not some incidental add-on to the "real" business of relief and recovery. It's the best possible investment in a better world.
A Global Crescendo photographer took this photo of her own children. A poor widow, she can'tafford o send her children to school but keeps them at home to work.Other photographers labeled this practice "child abuse." Photo: Mamie Mustapha

When war ends, things usually get worse for women. As I've mentioned before, when rape is used as a tactic of war—as it was here in Sierra Leone—it becomes a habit that continues and even grows worse long after the official end of conflict. These days rape is widespread, teenage and very young girls the favorite targets. Here, as in Liberia, the rapist is often a member or friend of the extended family, and usually he can persuade the impoverished mother of the rape victim to let the matter drop in exchange for cash. I know of a widow who settled with the man who had raped her 10-year-old daughter for the equivalent of $13.35. The small sum is a measure of her poverty. Later, when she regretted the compromise and wanted to cancel it, she couldn't raise the money to pay the rapist back.Domestic violence—wife beating, marital rape, emotional abuse, torture, economic deprivation, and the like—also seems to increase in frequency and severity. Just yesterday I interviewed a 25-year-old woman whose husband—a 40-year-old former-combatant still in the army—tore off her clothes, beat her, bit her, and slashed her face with a knife. The man had already left her and their two children to live with a new wife. He said he'd heard, mistakenly, that she was seeing another man. While he was at it, he stole all her money—the profits of her business that has supported the family for years—and all her trade goods. She feels lucky to have escaped with her life. Last week, in another district, a man cut off his wife's head.
This pregnant teenager was in her last year of secondary school and planning for college when she"got a belly." Forced to leave school, she remains at home, deeply depressed and fearfulthat her family may throw her out. The admitted father of the expected child has repudiated herand continues his studies. Photo: Mariama Mansaray

The war in Sierra Leone left many, many widows with young children to raise and no means of support. Widows worry themselves sick because they can't afford to send their kids to school. Often they can't feed them. War also left many orphans. Many young girls and women are on their own. Girls growing up in poverty, without education, are easy prey for men on the prowl. Sexual exploitation of young girls is commonplace. When they "get a belly," the man vanishes, leaving the young girl with a child of her own, an additional burden on a family's scant resources. Schoolgirls too are sexually exploited by their classmates and often by their teachers. Getting a belly disqualifies them for education; a pregnant girl must leave school, though the boy or man who impregnated her suffers no consequences. Girls who dreamed of becoming nurses or teachers or lawyers to contribute to their community become shameful liabilities instead. Think about the dent that makes in the future of a small town. Think about what it does to the girl.Yes, I know you're impatient with me. I'm always telling you these depressing stories, leaving you to wonder what in the world you can do about it. That's where the IRC GBV program comes in. It's taking on these problems and making change. Next time I'll tell you a success story. I promise.