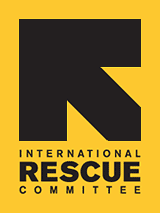 Since 1933, the IRC has provided hope and humanitarian aid to refugees and other victims of oppression and violent conflict around the world.
VOICES FROM THE FIELD
THE IRC BLOG
2011: In Sierra Leone, mitigating child assault
"It is not your fault," says the IRC's Amie Kandeh (center), consoling a 14-year-old girl named Fulamatu, as her mother listens. "You must believe that." Amie and her team help dozens of girls like Fulamatu every month at the IRC's three Rainbo Centers – facilities that provide medical care, counseling, legal aid and educational support for survivors of sexual violence.
Photo: Melissa Winkler/IRC
In October, influential New York Times columnist Nicholas Kristof wrote two columns about the epidemic of child rape in this precarious country. His reports were heart-wrenching, describing girls of tender age requiring treatment at the International Rescue Committee rape center in Freetown.
Nick's columns helped promote greater public awareness of a scourge that reaches far beyond Sierra Leone. IRC donors, however, helped us to provide the much-needed support that survivors now find at our IRC center.
To Help
Make a gift to the IRC
: Together, we will continue to help survivors heal while changing local attitudes to make justice imperative for the perpetrators.
All online gifts will be matched dollar-for-dollar up to $1.9 million through December 31.