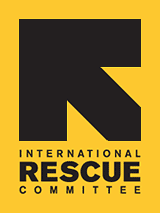 Since 1933, the IRC has provided hope and humanitarian aid to refugees and other victims of oppression and violent conflict around the world.
VOICES FROM THE FIELD
THE IRC BLOG
98% Interest [Voices from the Archive]

February 28, 2008
By The IRC
The IRC's Jason Jarvinen (left) discusses personal financial management with a refugee in San Diego. Photo: Ralph Achenbach/The IRC
[Originally posted one year ago] By Kasra Movahedi, the International Rescue Committee's community and economic development programs manager in San Diego 98% interest. That's how much a Sudanese refugee in San Diego was being charged for a loan that he received from a less-than reputable financing company 10 months ago. He sent the money to his mother in Africa, who was ill and needed the funds to pay for medical care. After repaying nearly $2500 over 10 months, his outstanding principal balance was HIGHER than when he began because he made two late payments. The financing company was taking funds directly out of his barren checking account as soon as any deposits were made, he had lost his job, he was falling behind on his credit card payments, and the bank was about to repossess his car. IRC's San Diego financial literacy program was able to package a loan for this refugee that paid off his 98% interest loan and his outstanding credit card debt in full. The IRC loan was also used to bring him current on his auto loan, preventing the vehicle's repossession. With greatly reduced expenses and the recent attainment of steady income, he has realized some sense of financial normalcy. He plans to re-enroll in college this fall. Three weeks ago, I had the great opportunity to share this story and several others like it with IRC's Board of Directors when my colleague Kate Hughes and I traveled to IRC HQ in NYC to present on IRC's San Diego community and economic development programs. For an organization that works in more than 25 countries and employs thousands of individuals, being given time at a Board of Directors meeting was, to be blunt, a big deal. The focus shifted from successful business owners and homeowners to refugee health and community gardens when Kate began her portion of our presentation. Kate's work is of particular interest because it is the first time that IRC has delved into food security programs. After two rounds of unexpected applause and a brief Q&A session, Kate and I returned to our seats for the duration of the board meeting, relieved of the nervous energy that filled us before our presentation. The rest of the board meeting was focused on IRC's important work overseas; Iraqi refugees, our emergency response approach, and an updated look at the situations in Somalia and Darfur. I listened intently as each of these issues was discussed, and was exhilarated to witness the context of the discussion always focused on "the humanitarian thing to do." It is not every day that you get to witness the primary decision-making body of an international aid organization discuss ways to alleviate suffering throughout the world. In reflecting on my trip, I can point to two interrelated insights that I gained: First, with more in-depth, first-hand knowledge of IRC's work abroad, I have a better context for the role of my economic development work domestically. My department is at the tail-end of a compelling & vertically integrated continuum of services stretching from some of the most remote locations in the world all the way to sunny San Diego. The IRC can provide emergency relief when a refugee is forced to flee their home, set up short-term camps to keep people alive and safe, assist in the processing for those individuals fortunate enough to be slated for resettlement, provide for airport pickup and initial housing for those brought to the U.S., assist in reuniting families domestically, assist in learning English, assist in finding employment, help refugee students with after-school programming, help in starting a business, assist in saving for a down payment on a home, and offer education and financial products that can help new arrivals avoid predatory lenders and fringe financial service providers--some of whom charge 98% interest. Pretty amazing when you step back and take a look at it. The second major insight: I am very fortunate to do what I do.