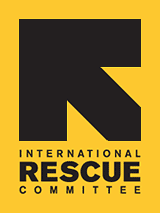 Since 1933, the IRC has provided hope and humanitarian aid to refugees and other victims of oppression and violent conflict around the world.
VOICES FROM THE FIELD
THE IRC BLOG
The city is the new refugee camp

February 13, 2012
By The IRC
IRC-UK executive director Carolyn Makinson with Somali women in Eastleigh, a Nairobi neighborhood that is home to an estimated 120,000 refugees.
Photo: IRC-UK
"The word 'refugee' brings to mind rows of white tents spread over remote and dusty plains – today has made me think differently. I am in Nairobi, home to tens of thousands of refugees trying to survive and build a new life in Kenya's sprawling capital. Eastleigh, a neighborhood on the east side of the city, is home to an estimated 120,000 refugees. The majority are Somalis who have fled conflict and drought in their own country. Rather than head for refugee camps, increasingly they seek the anonymity and opportunities for self-reliance offered by the city. They are not alone in this choice – according to the UNHCR, the UN's refugee body, more than half of the world's refugees now live in urban settings."