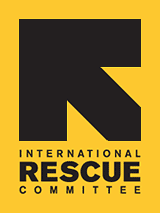 Since 1933, the IRC has provided hope and humanitarian aid to refugees and other victims of oppression and violent conflict around the world.
VOICES FROM THE FIELD
THE IRC BLOG
Congo: On the Road [Voices from the Archive]
IRC mortality survey team members Sadala Omana and André Bangele struggle to negotiate the road between Kindu and the village of Kimbiyambiya in Congo's remote Maniema province. Photo: Peter Biro/The IRC
The International Rescue Committee's Peter Biro spent two weeks on the road last summer with IRC mortality survey teams in the Democratic Republic of Congo. A previous IRC survey found that nearly four million people have died from war-related causes in Congo since 1998—making it the world's deadliest documented conflict since WW II. The new study about to be released shows the numbers steadily rising. Part 1: The beginning of the road - Kindu to Kalima  l  Part 2  l Part 3 The plane touches down with a heavy thud and as the doors open, a rush of warm, humid, tropical air hits me in the face. This is Kindu, the provincial capital of Maniema, a rural, war-torn and neglected province in the east of the Democratic Republic of Congo. I have joined one of five IRC teams tasked with conducting a mortality survey in Congo and this is where our journey begins. The IRC has documented the magnitude of the humanitarian crisis in Congo in four previous mortality surveys. The latest, conducted in 2004, showed that from August 1998 to April 2004, more than 3.9 million people died as a result of the war here, making it the deadliest conflict since World War II. Ninety-eight percent of the deaths were due to preventable and curable diseases. Now the survey teams are trying to understand if things are improving in Congo or if it has indeed gotten worse. The teams will interview the population in 31 randomly selected health zones across all of Congo's eleven provinces. The leader of the team I have joined is Maxim Bushiri, a Congolese IRC staff member who normally works with public health in our office in the capital Kinshasa. The first stop in the town of Kindu is a small shop where we rent motorbikes and stock up on fuel, food and water. Old bicycle inner tubes are used as luggage straps to attach our bags to the back of the motorbikes. As we prepare to leave, my beat-up 125cc cross bike sits heavily on its rear wheel, with backpacks, jerry cans for spare fuel, camera bags and other bits of luggage occupying most of the rider's seat. This leaves little space for my colleague, Amaka Megwalu, on the seat behind me. An IRC information officer in Kinshasa, Amaka is here to help with translations and, as it will turn out, endless dealings with police officers and local authorities. It is early afternoon as we set off for our first destination, the town of Kalima about five hours drive east. During the dry season when road conditions are favourable, that is. When it rains, this trip can take days. In addition to obstacles caused by weather, roads are extremely poor at the best of times. Congo, the size of Western Europe, has only somewhere between 500 and 1,500 kilometres of paved road and millions of people are separated from hospitals and clinics by endless stretches of jungle paths, destroyed roads and demolished bridges. From Kalima, the team will begin to survey a number of isolated villages in the region over the next two weeks. Our first obstacle is the mighty Congo River, the country's main trade and transportation artery. We load our three cross bikes into a pirogue, a local dug-out canoe, and slowly make the crossing. On the other side of the Congo River the real journey begins. After a few kilometres of potholed tarmac road we soon find ourselves on a narrow dirt track with huge craters and rocks in it. The road is so poor that we soon realize that it will take us much longer than expected to reach Kalima. As the last rays of the sun disappear, the situation deteriorates further when a tropical storm explodes overhead. The road turns into a veritable river in less than half an hour. My bike soon takes a nose dive into a pool of muddy brown water and the over-heated engine begins to hiss and cough. The rear wheel digs me in deeper and deeper with each fruitless spin. Overhead, the lightning crashes and I am completely soaked. My team mates help me get up and we try to continue our journey with water up to our upper thighs. We soon realize it is no longer possible to continue and decide to stop at the next house we see. It turns out to be that of Maloani Isungo, a man in his early 60s who lives with his children and a dozen relatives in two small clay huts by the side of the dirt track. We soon get a taste of Congolese hospitality. Maloani and his son Axel light a coal fire in the middle of the dirt floor and, although the family is clearly very poor, insist on offering us dinner. We soon share rice and sardines over a candle-lit table as the torrential rain continues its ferocious pounding on the thatched roof. Axel tells me that his wife gave birth to a daughter by a caesarian-section in Kalima earlier that day. "She lost a lot of blood, and she's not feeling well," Axels says. "But the baby's fine. I went with my wife to the hospital a month before she was due to give birth. She has stayed there ever since and I brought her food every day. I am lucky; we are only three in this village who own a motorbike. The others have to walk if there's an emergency. And sometimes people die on the way." With no sign of the tropical storm letting up, we are offered a bed for the night. My body is aching from trying to control the bike on six hours of slippery mud. My left index finger has grown to twice the normal size, the result of a bite from a nasty black ant. It has been a dramatic day, I think to myself as I drift off to sleep in Maloani's bed in a tiny, damp room dominated by two old suitcases and a stack of cardboard boxes. As I am about to find out, this is merely the beginning.