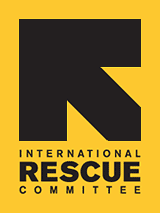 Since 1933, the IRC has provided hope and humanitarian aid to refugees and other victims of oppression and violent conflict around the world.
VOICES FROM THE FIELD
THE IRC BLOG
Haiti: "An incredible feeling"

August 7, 2010
By The IRC
Becky Chandler with young earthquake survivors in Port-au-Prince, Haiti.
Photo: Gerald Martone/The IRC
"Many parents told us they had assumed their child had died in the earthquake, and when we bring that child back to them, it's as if we're bringing their child back from the dead. It's an incredible feeling."
- Becky Chandler, IRC emergency child protection coordinator, describing her work reuniting families in Haiti to a newspaper in her home state of Maine. Becky was recently awarded a Sarlo Foundation Award for Distinguished Humanitarian Service.

Read more: Becky Chandler recognized by international relief organization, The Bethel Citizen, Bethel, Maine, July 21
No comments yet.