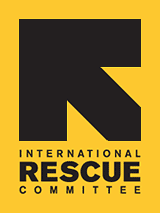 Since 1933, the IRC has provided hope and humanitarian aid to refugees and other victims of oppression and violent conflict around the world.
VOICES FROM THE FIELD
THE IRC BLOG
Photo of the Day: Red tape, Haiti

October 5, 2011
By The IRC
Photo: Gerald Martone/IRC
PORT-AU-PRINCE, Haiti -
A man looks through a fence at the presidential palace in Haiti's capital, Port-au-Prince, which was badly damaged in the powerful earthquake that struck Haiti in January 2010.

Many Haitians lost important documents including birth and marriage certificates in the earthquake. Without a birth certificate, a person is not able to register for school, open a bank account or access other critical services.
Cutting through bureaucratic red tape is difficult for ordinary citizens and only experienced lawyers seem able to penetrate a very complex system. The International Rescue Committee is helping people to obtain the documents they need.

Learn more about how the IRC is helping earthquake survivors in Haiti.
No comments yet.