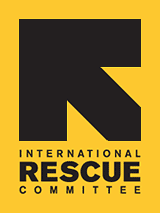 Since 1933, the IRC has provided hope and humanitarian aid to refugees and other victims of oppression and violent conflict around the world.
VOICES FROM THE FIELD
THE IRC BLOG
Saving the Lives of Mothers and Babies [Photos from the Field]
In northern Uganda, the IRC provides communities with locally made bicycle ambulances to transport women experiencing complicated deliveries from the village to the hospital. Photo: Susan Purdin/The IRC
Susan Purdin, the IRC's senior technical advisor for reproductive health, shares these photos showing some of the ways the IRC is helping women from war-torn communities safely deliver their babies amid difficult circumstances.  
The Beja people live in northeast Sudan, near the border with Eritrea. Culturally, women are not allowed to be seen among men. They live in a separate women's section in the village and are visited occasionally at night by their husbands.  Eritrean nurses employed by the International Rescue Committee provide health education for the Beja women teaching them good hygiene for home-based deliveries.  In the training, women also learn the danger signs that require referral for emergency obstetric care.  The IRC also works with the men to assure that the whole community is ready to mobilize to save the life of a woman experiencing a complicated delivery. Photo: Susan Purdin/The IRC  
Newborn baby, Kalma Internally Displaced Persons Camp, Darfur. The IRC runs the health clinic which is staffed by health workers who are themselves displaced from their home villages and residents of the camp. Photo: Susan Purdin/The IRC 
Moms and babies in the in the waiting room of Kyriandongo Hospital, Masindi District, Uganda.  They are waiting to receive vaccinations for children less than 1 year of age.  This district hospital serves both the local community and Sudanese refugees in a local settlement. IRC supports maternity care in this hospital. Photo: Susan Purdin/The IRC 
In Lofa County, Liberia, the IRC constructed temporary facilities to make basic obstetric services available to women in communities returning from displacement while war-ravaged clinics were being rehabilitated. Photo: Susan Purdin/The IRC 

Moms and babies in the basic health unit of Thal Refugee Camp, Hangu District, Pakistan. The refugees are from Afghanistan. IRC's health program has reduced maternal death by half in the past 15 years. Photo: Susan Purdin/The IRC 
No comments yet.