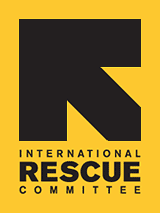 Since 1933, the IRC has provided hope and humanitarian aid to refugees and other victims of oppression and violent conflict around the world.
VOICES FROM THE FIELD
THE IRC BLOG
The 'frail face of famine'

July 28, 2011
By The IRC

Baby Minhaj Gedi Farah, called the 'frail face of famine' in news stories that have reached around the globe, is one of nearly 800,000 children at risk of dying in drought-stricken East Africa.
Photo: AP
Seven-month-old Minhaj, cradled in his mother's arms, clings on to life in the malnutrition unit of an International Rescue Committee (IRC) hospital in Dadaab, Kenya.
Families like Minhaj's have walked for days and weeks from Somalia to escape the devastating drought and find shelter in refugee camps like the ones in Dadaab.
When he arrived, little Minhaj weighed less than eight pounds — the Associated Press called him "the frail face of famine." But a day after treatment by IRC doctors he was breastfeeding again, which is a very good sign since he came in too weak to drink. The doctors are now focused on increasing his weight.
Please help Mihag and children like him.
You can read more about how the IRC is providing lifesaving aid to families in the drought zone here.