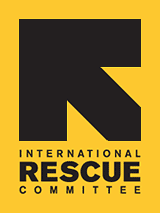 Since 1933, the IRC has provided hope and humanitarian aid to refugees and other victims of oppression and violent conflict around the world.
VOICES FROM THE FIELD
THE IRC BLOG
Stormy weather for Haiti, as Tomas nears
Venel Nelson, a primary school teacher and camp resident, holds his prized dictionary. The IRC gave out sturdy plastic bags for people to protect their most important documents and possessions during the storm, but his giant dictionary won't fit.
Photo: Susana Ferreira/The IRC
Villambetta, Port-au-Prince, HAITI -
The wind had already picked up by Thursday morning in Villambetta. It whipped around the tents and plastic tarp-covered shacks in the camp, filling the air with sand and dirt and the steady rhythm of flapping. Groups of children, grinning and oblivious to the worries of the adults, made makeshift kites by tying black plastic bags to string, hoisting them into the air. The wind carried them high.
A storm in late September devastated much of this camp, destroying one in ten homes and damaging many others. The residents had built back their homes stronger, digging small ditches around the structures to help divert flooding, reinforcing their walls and roofs with extra wood, new tarps distributed by the IRC, and whatever else they could find. The day before Tomas was scheduled to hit, they were hard at work again, doing what they could to make their flimsy homes more resistant to the coming storm.

Venel Nelson, 30, says he is very, very worried.

"There's nothing we can do," he says. "With each storm we become more vulnerable. Our homes are destroyed because they're not solid. We don't have proper drainage, so there's always flooding with the rains. I have a son, he's two years old, and I don't know where to take him."

Many of Venel's neighbors know family or friends with homes where they could possibly seek refuge, but some people are afraid to go.

"You can't forget," he says, "after the quake all the houses were cracked. So, we're scared. We don't want to go because we are afraid the houses will collapse."

With no other alternative, Venel and his neighbors are staying put. They're protecting what they can and hoping that Tomas doesn't hit them too hard, that he blows right past and gives this storm-weary community a quiet night.

How To Help
Donate directly to the IRC's work in Haiti or learn about more ways to help
No comments yet.