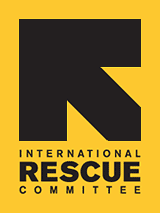 Since 1933, the IRC has provided hope and humanitarian aid to refugees and other victims of oppression and violent conflict around the world.
VOICES FROM THE FIELD
THE IRC BLOG
Syrian refugee aid: Filling the gaps in Jordan
Ogla with members of his extended family. The Syrian refugees fled violence in their hometown of Dera'a — just 10 miles from their temporary home near the city of Ramtha in northern Jordan.
Photo: Ned Colt/IRC
Near Ramtha, Jordan -
Ogla has a ready smile and is quick to extend his hand. I meet him as he's leaving an International Rescue Committee medical clinic in the border town of Ramtha. He's come for a check up and medication. At only 32, the former chicken farmer from the troubled southern Syrian city of Dera'a has a bad heart. This is the first time since he arrived in January that he's seen a doctor — or had his heart medicine.

He's loading up with what we in the jargon-laced aid world call NFIs (non-food items). In this case they are straw carpets, foam sleeping mats, comforters and hygiene supplies like soap, towels, toothbrushes and toothpaste. The IRC provides these to those who make their first visit to one of our clinics. Another local aid agency has contributed more carpets and a countertop cook stove.

Ogla invites me to his three-room apartment to meet his wife and five young daughters — all under the age of five. It's a half-mile from the Syrian border, so confoundingly, he's only ten miles from his home in Dera'a. On still days you can hear the rumble of shelling continuing there. Dera'a is where the revolt against Syria's Assad regime began back in mid-March of 2011.

As we drive to his temporary home in Jordan, he tells me that four days earlier the number of those living in his small apartment doubled. That's when his sister-in-law and her five children walked across the open desert border.

Their flat is sparse; three rooms furnished with straw carpets on the concrete floor and a handful of foam mats to sleep on. There's a single working bathroom, supplied with water delivered weekly by tanker truck. He sets up the stove, but remarks he has no gas to fuel it. While there are bags of macaroni supplied by another aid agency, he has no way to cook it. He points to an empty corner and says that's where the refrigerator would go — if they could afford one. All this for the equivalent of $150 a month, plus electricity — but given the number of empty light sockets and no fridge, they can't be using much. Still, with no income, Ogla's family, like most others here, is entirely reliant on piecemeal charity and loans.

"The lack of consistent support is a looming problem, especially as more and more refugees arrive daily," warns IRC regional director Luan Meraku. "All aid agencies must work together to determine what is needed, by whom, and when. Coordination is critical in emergencies like this."

And mobilizing an effective response is based on securing sufficient funding. The United Nations initially appealed for $85 million to support Syrian refugees in Turkey, Lebanon and Jordan. In late June they doubled that figure, based on a doubling of refugees in the region since March. As of early July, they'd received only a quarter of the needed funds. That doesn't bode well for families like Ogla's, who live day to day, not knowing what tomorrow may bring.
To Help
Donate Now: Your donation will help the IRC assist people uprooted by the crises in Syria, Mali, Sudan, Congo and elsewhere around the world.

No comments yet.