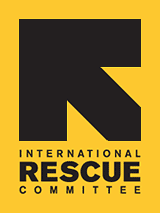 Since 1933, the IRC has provided hope and humanitarian aid to refugees and other victims of oppression and violent conflict around the world.
VOICES FROM THE FIELD
THE IRC BLOG
Watching the World Cup in Haiti
Port-au-Prince, Haiti: Taking a break in the hot afternoon sun to watch some World Cup football. Photo: Lucy Carrigan/The IRC
My colleague Lucy Carrigan is in Haiti's capital, Port-au-Prince, to document the International Rescue Committee's work assisting Haitians whose lives were turned upside-down by a massive earthquake that struck six months ago. Despite the struggles of life in quake-devastated Port-au-Prince, Haitians were captivated by the FIFA World Cup tournament as it played out over the past few weeks -- and they took time out to watch.
While Spain celebrates today's victory over the Netherlands in the final, the streets of Port-au-Prince are bedecked with the green of Brazil. "No matter who wins the World Cup," Lucy said yesterday in an update posted on the IRC's Twitter channel, "Brazil is Haiti 's team." Lucy had a chance to join the crowd watching the Cup semi-finals when they were screened at the National Stadium in Port-au-Prince yesterday.
The IRC and our partner Film Aid were showing short educational films before the games -- Lucy saw one of them screen at half-time yesterday and described it for me in an e-mail: "The film told the story of a woman who had lost her husband in the quake and was trying to prove to the bank that she was his wife so that she could gain access to his bank account. She has nightmares in which she goes to the bank with insufficient information and gets turned away (several times)."
Lucy said the film then described legal services the IRC provides help Haitians obtain their personal documentation after quake. So many people watching the World Cup -- such a winning opportunity to reach quake survivors with information about services that can help them rebuild their lives.
No comments yet.