Like many children around the world, Habtom and Mirkha became friends through their shared love of football. 
Their pitch is in the dusty deserts of Tunaydbah camp in Sudan, where they live amongst 60,000 Ethiopian refugees. They are two of the thousands of children forced to flee their homes when widespread violence broke out last November. At the height of the conflict, almost half the refugees arriving in Sudan were children.
The boys felt an immediate connection. "He doesn't fight," says Mirkha, describing what drew him to Habtom. "He's very patient and disciplined. He's a nice person who helps you when you need it."
"We became best friends when we started going to the [IRC] centre together," says Habtom. Separated from his parents in Ethiopia and looked after by his elder sister, Mirkha now spends a lot of time with Habtom and his mother, Wahid. 
Through funding from the European Union, the IRC is running safe spaces for children in Tunaydbah camp, to help them recover from the horrors of violence and displacement. 
Wahid talked about their journey to Sudan, which was fraught with difficulties. "Our houses were burnt down on purpose," she says, recalling the events that led her to flee in the middle of the night with her three children. "We ran away with nothing. All the people of Awora who made it out are alive, but those that stayed behind that day were killed."
Having to hide in the wilderness and travel by foot for three days to Hamdayat, located in eastern Sudan, Wahid was constantly worried about her children. They had seen their village attacked and had passed dead bodies along the way, which left them with the after-effects of shock and trauma. "My daughter was so shaken, she stopped eating," she explained. "[As for] Habtom, he started to have nightmares."
The Safe Spaces allow the children to gather in a secure environment and teach them techniques to overcome stress and trauma. They offer psychosocial support and a chance for them to forget their worries in a shared space. Hadera, an IRC Safe Space Manager and a Tigrayan refugee himself, considers the role of these community spaces to be vital for the children. "It's sorrowful to meet children who have seen so many bad things in their life," he says. "But I'm happy I can support my people."
Having escaped violence last November, Hadera had experienced trauma firsthand. He had seen innocent people around him die, and had to spend a week searching for his family during the outbreak of the conflict before embarking on a dangerous journey towards Sudan. "I was fortunate to arrive [to Tunaydbah] and be safe," he says. "Many innocent people lost their lives because they stayed behind."
Through all these painful experiences, Hadera remains resolute in his mission to support the Ethiopian community that is now in Sudan — especially children like Habtom and Mirkha.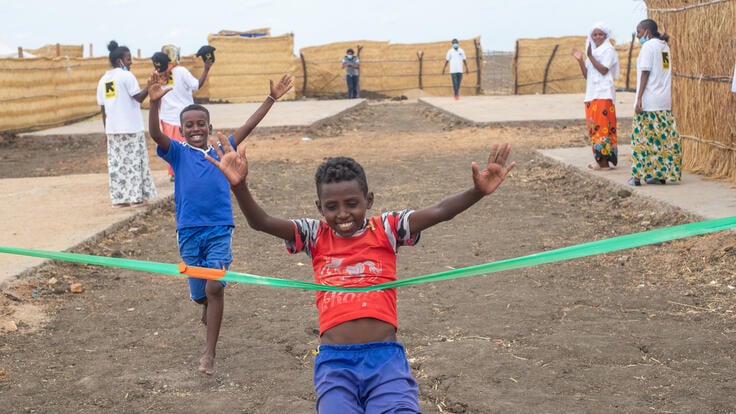 "Children are the promise of tomorrow," he says, speaking of the motivation behind his involvement in the safe spaces. "And they need more than adults do. They face a lack of adequate nutrition, medicine, hygiene, and entertainment — so I believe I have to contribute to helping them." 
Children are the promise of tomorrow.
His efforts aren't lost on the children. Wahid has seen improvements in Habtom since he started taking part in the safe spaces. "When I asked [Habtom] what he learned, he says, 'We learned. We were very happy. We forgot our worries'," she says with a smile. "He tells me he wants to learn not to have money, but to have knowledge." The children are also attached to their teachers. "They love us very much, and we love them too," says Mirkha.
It's clear that the Tigrayan community in Sudan remains strong, despite the adversity it's been through. "After coming to Sudan, [Habtom] is back to normal because he's surrounded by his friends and community," says Wahid, smiling at the boys. "My heart is content because my son is learning."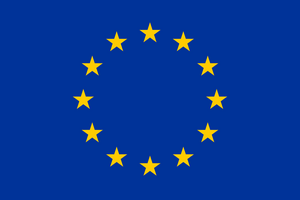 About our work with the European Union