In northeast Nigeria, community leaders and government representatives are coming together in hopes of achieving a common goal: to improve their neighbourhoods and help them prepare against future disasters.
In workshops funded by the EU, the IRC is holding space for different communities in Maiduguri  to get together to discuss disaster risks, exchange ideas, and come up with long-term solutions.
 Together, they are drafting resilience plans for their neighbourhoods that tackle a range of issues, from lack of educational and vocational training, inadequate access to water, to challenges facing women and girls. Their ultimate goal is to implement these plans, building the community's resilience to adapt and grow in the face of future hazards.
Meet some of the attendees as they talk about their reasons for working for their communities, their reflections on the workshop, and their hopes for the future.
Bukar Lawan, community leader
"A leader is someone who makes things happen. When it comes to your people, you have to be at the forefront," says Bukar.
Hailing from Maidiguri, Bukar lives in Ngirmeri community and makes a living rearing cattle and growing crops. As someone approachable and welcoming, Bukar champions conflict resolution among his community members, and regularly acts as a mediator when there are disputes.
Bukar started farming when he was 18 years old, gaining knowledge and experience in cultivating everything from rice, beans and millet. A farmer to this day, it's his personal proximity to the problems of his community that brings him to the EU-funded workshops.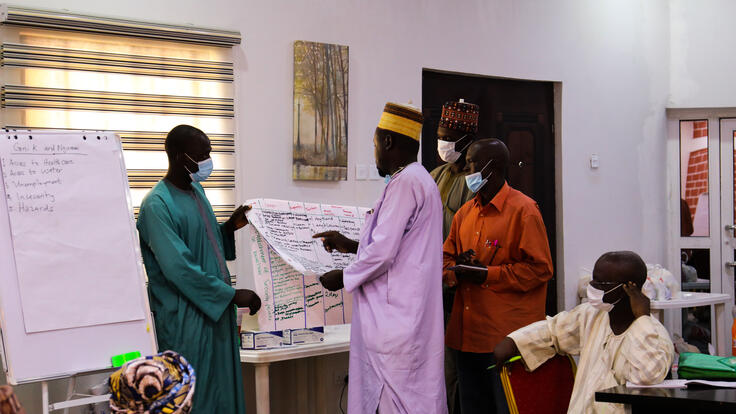 "Nowadays the fuel, fertiliser and the chemicals we use are expensive," he says, explaining how rising costs have impacted his hometown, "so you're already in debt before the harvest even comes home." During the workshop, Bukar is advocating to bring vocational training programs to his community, to teach existing farmers about innovative agricultural practices and to promote diverse opportunities for young people to earn a stable income.  
Bukar hopes for a brighter future, where all the men and women in his community are employed. "I want to make it a community that everyone will love to live in," he says, his eyes resolute with determination. "That's what gives me the confidence and resilience to do this work."
Hajjagana Dawud, women's leader
38-year old Hajjagana is on a mission: to uplift and unite the women in her community.
Hailing from Goni Kachallari, a neighborhood in Maiduguri, Hajjagana had been interested in working for women since an early age. She was inspired by her own mother, who she describes as a warm and patient woman. "She always puts people in the community first," says Hajjagana. 
This eagerness to help others is reflected in her own work. Hajjagana volunteers to support women to understand their rights, counsels them to become self-reliant and provides a space where women can come together to listen and support one another. During the workshop, she is working with others to design projects that address the needs of women in her community — to build a safer environment for them to thrive in.
"Recently we've seen less negative attitudes towards women," she says. "To understand each other takes time and effort but patience is resilience," she says. "If you're patient, at some point your predicament will pass. Gaining acceptance from the women I work with gives me strength to keep pushing harder."
Ishaya Dauda, government worker
An engineer by profession, 50-year old Ishaya was inspired by his father and his colleagues at the Nigerian Society of Engineers, who kept pushing him to not only work hard, but remain inquisitive about the world.
Working at the Ministry of Water Resources, he now takes this dedication and curiosity into solving the problem of water scarcity for communities in Maiduguri. "We have sworn an oath to work for our people," he says. "In spite of the difficulties I find myself in, I'm always determined to contribute to the development of society."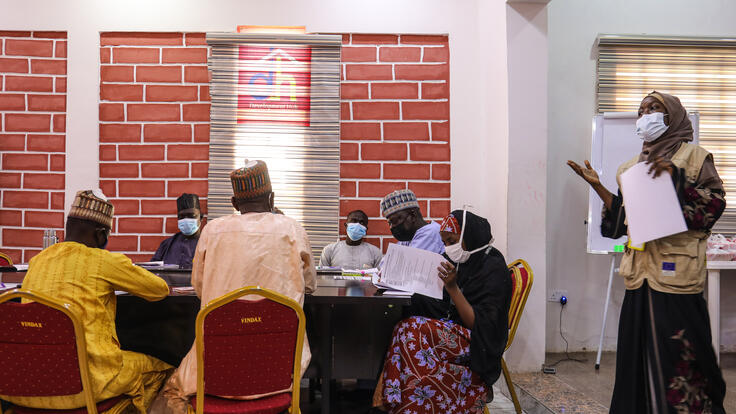 It's Ishaya's experience in working to supply water that brings him to the EU-funded workshops.  As a government worker, he reflects on how important it is to stay close and grounded to the communities one works for. "When you provide facilities to the people that use them, but you never interact with them, you won't get too far," he says.
"As a water engineer, my goal is for a future where every home has a tap," he says. "I would like to see an environment where peace is restored again — without peace, we can't work towards any purpose we want to achieve in our lives."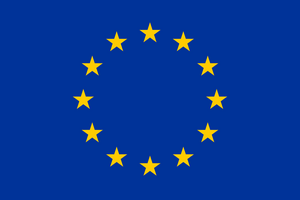 About our work with the European Union