As a child growing up in Syria, she watched in awe as her mother and older sisters worked fabric into beautiful creations. Then, it was her turn to learn.
"I was nine years old when I learnt to sew from my mum. I used to be given scarves and leggings to sew – things that were easy because she didn't want me to ruin the material. I started to learn over time. Today, all the neighbours know I'm a very good tailor."
The war in Syria has since displaced Rehab's sisters around the world – Rehab lives in Amman, Jordan with one of her sisters, one has made it to Germany and the rest are living in Turkey. But despite living thousands of miles apart, they're all still sewing.
Rehab lived in Aleppo, a place that was once full of culture and history but has now been devastated by eight long years of war. Thousands of people have died and millions have been left without a safe place to call home. Tragically, Rehab herself lost one of her daughters to the conflict.
In 2013, Rehab fled Aleppo on a bus with her two daughters, Amani and Shaima, son Hekmat, and husband Ali. She was heavily pregnant. While on the bus leaving Aleppo, an airstrike started. Rehab started to get contractions. She was about to give birth.
"There was an airstrike. The bus stopped. I was afraid. Thank God there was a nurse on board. I remember people saying, 'There's a woman about to give birth!' I told them I didn't want anyone to touch me. I delivered my daughter, but she was in a serious condition. The bus driver was worried something might happen to me and was asking how he could help. I fell unconscious and when I woke up, I found myself in a medical room in Zaatari."
Zaatari is a refugee camp in Jordan, home to nearly 80,000 people, the majority Syrians like Rehab. 
Her baby daughter, Sham, survived – but Rehab says that her mental health has suffered. Life in Zaatari compounded the trauma Rehab and her daughters had experienced. "The situation in Zaatari is very bad. It is cold and people live in tents and you have to queue to go to the toilet. I had to breastfeed Sham. We needed clean water. I thought of nothing but how to reach Amman to make sure my children were safe."
While living in the camp, Rehab's eldest daughter Amani became sick. "Her body went blue – we thought it was from the cold weather, but then she collapsed. She couldn't walk. We took her to the doctor and he said that she has 'blood rheumatism', which affects her legs. I kept carrying her for two years. She takes daily medication that she has to take until she reaches puberty. She still doesn't feel good and cannot walk properly."
After finding a safe place to stay in Amman, Rehab and her family had to start thinking about how to support themselves. "While in Syria, I had a house and a car – here I have to pay rent, for transport, for electricity and water. And I have my daughter's treatment."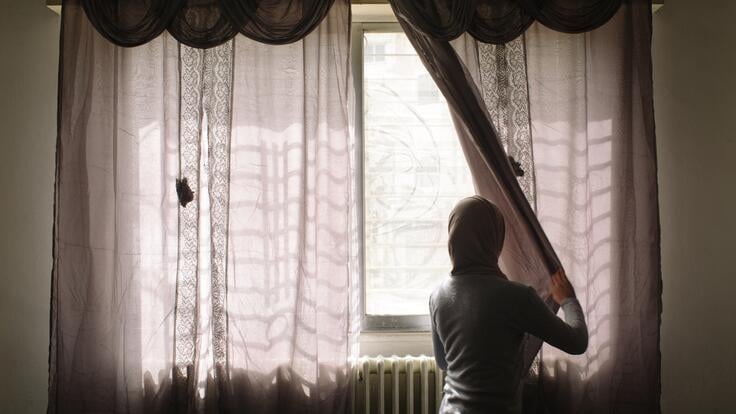 Rehab started spreading the word about her sewing skills in the neighbourhood. Requests began coming in – tailoring people's clothes, sewing bed-throws, creating curtains – whatever people wanted, Rehab made. But the cost of hiring a sewing machine from a local tailor was keeping her profits to a minimum.
When she heard about the International Rescue Committee's Rescuing Futures programme, supported by the Citi Foundation's Pathways to Progress initiative, she signed up immediately. The programme helps young businesspeople who have fled conflict or crisis with training and mentorship to create robust business plans and provides grants to help people get their businesses off the ground.
Through Rescuing Futures, Rehab learned how to manage a business, choose loans wisely and do a thorough business plan. On the strength of her plans, she was selected for a small grant, which she used to buy her own sewing machine, scissors, a table and some materials. "Instead of paying someone to rent a sewing machine, I'm now putting the money in my pocket. The programme has helped me expand my business. It's a huge difference in financial terms."
The business has also brought Rehab a sense of pride and peace. Sham is now five years old and she has also had another son, Mohammad, who's three. Their house is decorated in cushions, curtains, bed throws and lamp-shade covers – all made by the expert hands of Rehab.
"I've started to sleep peacefully because our finances are getting better and I can get my daughter's treatment. I've gained a good reputation in the neighbourhood. When a customer comes to you, it changes your mood, it helps you feel good. It helps you forget the past a bit."
"Amani feels I'm a mum in the fullest sense of the word. My children help me forget my exile. My daughter says: 'Why do you need to go to work mum?' I tell her, 'I do it all for you.'"
Find out more
Our Rescuing Futures programme, in partnership with Citi through the Citi Foundation, offers young entrepreneurs living in Greece, Nigeria, Jordan and now Cameroon, Lebanon and Germany the chance to kick-start their businesses and reach their full potential.