Seventeen-year-old Hauwa closes her eyes as she takes a deep breath. "I like it so much," she says as she slowly breathes in and out. "It calms me down when I'm upset. I take 10 deep breaths, and after I've done it, I think of the problem again, and it's no longer affecting me."
Hauwa is talking about belly breathing, one of the techniques she's learned in the International Rescue Committee's EU-funded Safe Space. During these sessions, young girls learn mindfulness techniques to help them overcome stress or deal with negative thoughts.
Since 2014, over two million people in northeast Nigeria have been displaced due to ongoing conflict from armed groups. Just 8 percent live in official camps and receive government support; most uprooted families are in need of food, clean water, shelter, education, and health care.
Women, girls and children are most at risk among this population. Three out of 10 have experienced one or more forms of violence, negatively impacting their well-being. Many of them also miss years of school due to displacement and poverty, which has been exacerbated by the COVID-19 crisis.
The multi-country Programmatic Partnership with the EU allows girls to access spaces where they can feel safe to learn in a supportive environment. It's here that Hauwa comes not only to practice relaxation techniques, but also to learn about her rights and opportunities and confide openly about her problems.
Hauwa appreciates the openness which the safe space provides her, and uses the lessons she's learned there in her daily life. "When my younger brother would offend me, I'd usually send him away. But now I give him that attention, and listen to what he has to say."
Running these sessions is 23-year-old Falmata El-Mustapha, a community facilitator with the IRC. She's well aware of the importance of these sessions for young minds and passionate about her students. "Girls in our community face a lot of challenges, such as lack of access to education, abuse, or the pressure to get married early," she explains. "The safe spaces allow them to say whatever they want. We cannot judge them, and whatever they say here is confidential."
She teaches students different methods, from singing traditional Hausa songs to counting to 10, that help them quell negative emotions when they find themselves in difficult situations.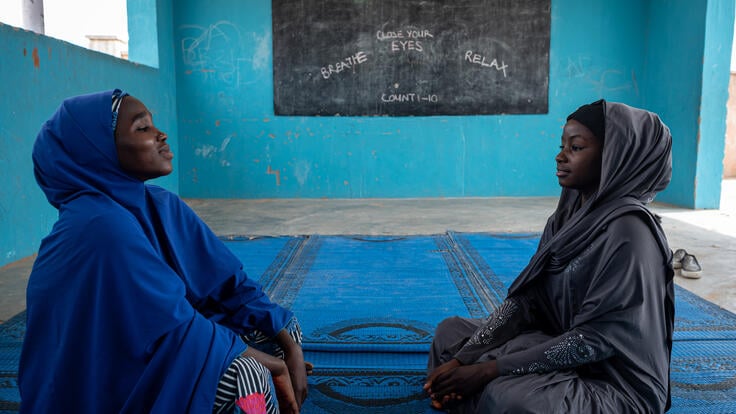 Outside of the safe space, Falmata talks to fellow community members about her work. "Most times, parents don't want to sit with their children and hear them out," she says. "I tell [the community] to allow their children the space to share their problems."
For Hauwa, who aspires to study medicine, mindfulness techniques have taught her the virtues of patience and acceptance. "Poor people go through a lot of hardship in Nigeria," she says, explaining why she wants to be a doctor. "I want to be able to attend to all of them, not just send them away. One should be welcoming and accepting of people in order to solve their problems."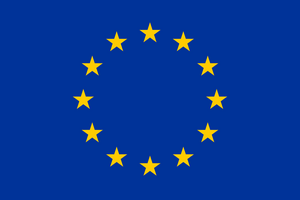 About our work with the European Union