In times of turmoil, it becomes ever more crucial to step up and support those around you. Meet the two Nigerians who are relentless in their hopes for a better future for their community in northeast Nigeria.
Nigeria is a diverse country, sporting areas of great wealth, but also those in abject poverty. In 2019, already 40.1 % of Nigerians lived below the country's poverty line, amounting to almost 83 million Nigerians that lived in poverty at that point of time. The COVID-19-pandemic has only worsened living conditions for Nigerians – an additional 12 million people are expected to be pushed into poverty in 2022.
Since 2014, Nigerians have had to endure ongoing conflict and violence, causing countless to flee or be displaced. Added to this, climate shocks and food insecurity, as well as a lack of resources for health care and education — all of which have only been exacerbated by the COVID-19-pandemic — have left 10.6 million Nigerians in need of humanitarian assistance, especially in the country's northeast.
Through funding from the European Union (EU), the IRC can provide integrated health, nutrition, WASH and protection services to local and displaced communities in northeast Nigeria. Services range from the provision of supplies, such as nutrition packs and dignity kits, to comprehensive counseling sessions and referrals.
Meet Tada, a Protection Officer with the IRC, and Umar, a local community leader both of whom have been unrelenting in their passion to support the local community in Gwoza, located in the northeastern state of Borno — and crucial in bringing them together with organisations such as the IRC.
Tada
There is nothing that 32-year-old Tada wants more for his community than having a sense of stability return. "I hope to see the lives and livelihoods of affected communities restored and improved, to the extent that, eventually, my community can stand on their own, just like before the conflict," he says. 
Tada has been working as a legal assistant with the IRC for three years. Apart from making sure goods and services provided through EU funding reach clients, he is always keeping in touch with the people in his community. 
Tada's passionate about creating a safe environment and building relationships, ensuring that people from the community – especially those that are most at-risk, or hesitant to accept support from outside – feel safe enough to voice their concerns, problems and needs. During his time working with the IRC, he realised that the most pressing needs his community had were much simpler than one might expect. 
"Essentially, the biggest challenge here is the food shortage," he says, explaining the challenges his community faces. In Gwoza, food distribution by various humanitarian organisations has reduced drastically – when in 2021, food distribution covered about 71,000 thousand households, at the beginning of 2022, only about 26,000 thousand were reached. 
Persistent conflict and violence prevent many from accessing their farmland and securing their livelihoods, causing the majority to be dependent on these distribution programs to meet their basic needs.
"As a result of the food shortages, many just struggle to survive," Tada explains. "Additionally, many of our clients are faced with growing challenges to their mental health."
When asked about the most difficult aspect of his job, Tada's answer comes quickly: "Not being able to support a client," he says, a solemn look on his face. "Having my hands tied, either because of lack of funding or because we cannot refer them to a partner, or anyone else who can address their needs and concerns."
Touching people's lives, no matter how small the deed, is enough for me.
But more often than not, Tada is able to help and support the community members that need his help. Even through the hurdles he faces, he's motivated by realising that many find solace and relief in the fact that he cares about their well-being. "The most rewarding part about my job is seeing how happy the clients are after I have been able to help them," Tada says. "Touching people's lives, no matter how small the deed, is enough for me."
Umar
Umar considers himself a man of the people. Selected by his community in Gwoza to represent their needs to organisations such as the IRC, he's proud to be the one who's responsible for elevating the issues faced by his neighbors. 
"I do everything with respect for their norms and values," he says, confidently. He provides counsel to those who are facing difficult times, and he is the first point of contact when any problem or conflict arises.
To me, being a leader is someone who sets the direction for other people.
In times of crisis, Umar knows that it's extremely difficult for people to shift focus from themselves and come together for the common good. "I'm a leader because I wish to help my people live peacefully," he says, explaining why he takes on this responsibility. "To me, being a leader is someone who sets the direction for other people – who assists, supports, and encourages others – and who always has the community's interest at heart."
Given all the challenges that people living in northeast Nigeria have to overcome daily, only few are successful in having a positive outlook towards the future. Umar is one of those people – his hopefulness towards better days to come radiates from his face. "Where there is life, there is hope," he says, smiling. "And we hope for a greater future, with rebuilt lives and businesses, and love and caring among ourselves."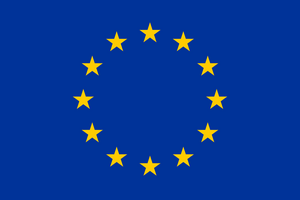 About our work with the European Union