"When I arrived in Greece, I thought life was finally changed for me," 24-year-old Baimba remembers.
Two years prior, he'd escaped persecution due to his sexuality in his home country of Sierra Leone, where being gay is a criminal offence.
"I had been traumatised from leaving my home and my journey through Guinea, Iran, all of this stuff," he explains.
Making it to Greece felt like the end to a terrible journey -- but Baimba was soon to find himself in a new nightmare situation. When he arrived on the shores of Chios, he was quickly whisked away to the camp, home to over three thousand refugees and asylum-seekers. Conditions were shocking.
"I've never lived this type of life because imagine, you sleep outside in tents, with rats. No proper facilities, one public toilet for over 6,000 people. It was very difficult. You live like an animal, it's not humane conditions that we are living in."
Amongst the chaos of camp life, the demons of past traumas began to resurface. "Everything just changed in me," Baimba says. "More stress and trauma, even for me to sleep at night it was very difficult, you know, I was just roaming about in the camp."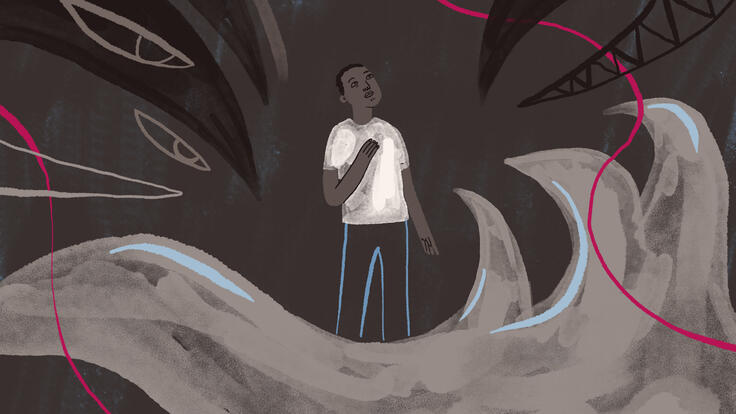 Baimba's mental health began to deteriorate, at his lowest point he describes feeling like there was no hope and that he was "in a different dimension". Thoughts of suicide and self-harm began to creep into his consciousness.
Baimba was referred for one-on-one sessions with IRC psychologist Alexia, after a few months he started to feel better. "My life has changed with the help of Alexia. I thank her for this great work she has done in my life, she tells me that there's hope. I listen to her when she talks because she has led me back to where I am today."
He has become a leader in his community, helping to support others in the camp now he's in a better place himself. But life continues to be tough with COVID-19 bringing in strict lockdowns in the camps, with social distancing remaining almost impossible.
"You talk about social distance? Well it's not working here in the camp because if you want to go for food, you will stand on the queue. You want to go for medical? You stand in the queue. You want to get your documents processed? It is done in the queue."
Baimba holds onto hope that things will get better, that he'll be able to continue his education or get into work. In Sierre Leone, he attended university and worked for an education charity in Freetown, helping children living on the streets find their way back to school.
"Education is the key to success," he explains. "I was lucky to have access to education, but imagine the children in the camp where there is no education. Kids are suffering. Nothing is happening for them."
"I hope one day in the future, I'll help people, you know, try to change the mentality of people in my country because people think if you are of a certain sexual orientation or a particular group, you are an outsider. This is one of my objectives, to advocate for people, especially African people."
Cruelty of containment
Along with hundreds of other refugees, Hassan has received mental health support from the IRC whilst living in Greece's overcrowded camps in conditions no should have to endure.
The pandemic has only made things tougher for refugees living in camps with lockdowns trapping people in intolerable conditions. Europe desperately needs to put an end to the cruelty of containment and urgently relocate the 15,000 people who remain trapped on the islands. Read our report.