"I miss the word 'Papa'. I miss the word 'my love' from my wife, sometimes, I even miss hearing the footsteps of my kids at home."
Hassan hasn't seen his wife and children in over a year, arriving on the Greek island of Chios in November 2019, he was forced to flee Syria without his family.
"I couldn't take my wife and children out of Syria because the government was looking for me. I could only go by myself."
Hassan had to pay thousands of pounds to get out of Syria, fleeing first to Turkey and then across to Greece on a dinghy. "It's a mix of feelings to be on the boat. This is the moment you see the value of your life in front of you directly," he said of the dangerous crossing.
Hassan made it to Chios, his only emotion was one of relief – he no longer had to fear for his life in Syria. He spent months living in tents in the sprawling camp on the Greek island before eventually being able to get an apartment in town.
"The time there was split into three parts - parts where we continue our asylum request, also you spend time waiting for food, the rest of the time - looking for the needs for the others. I knew the situation would be very bad here but I had to do what I could to survive," he says.
"It's hard to wait for the food, the camp is supposed to have 1,500, so every day it's a crisis for the food as we reached a point of 7,000 people. We were trying to give all our food cards to one person just to make the queue less, but still there is a long wait."
But it is perhaps the uncertainty of what lies ahead that is the toughest part of Hassan's life. "Every day is a waiting day, accepting your request or not accepting your request - and you will be out, again. You think about it every day, you don't have anything to do, it's tiring because it's an empty day.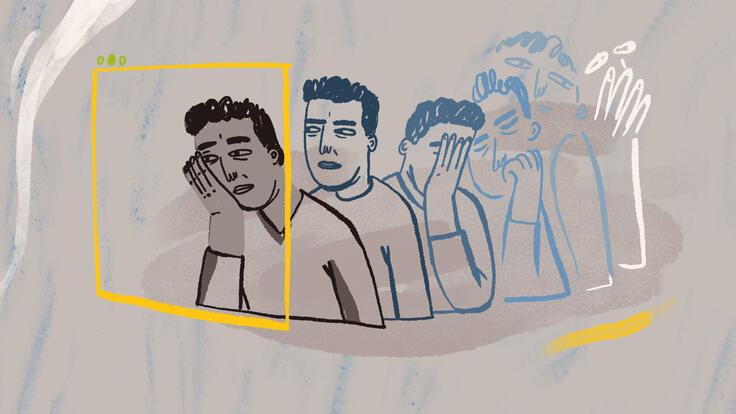 These lengthy waiting times and overcrowded conditions inevitably impact the mental health of asylum seekers on the Greek islands.
Hassan describes becoming "tired psychologically" and was made aware of the IRC's mental health programme, where psychologists provide one-to-one sessions to help asylum seekers cope and rebuild their lives.
 "The staff working for the IRC - at least the ones I know here - have a positive vision of life, of keeping going," he says. "This is maybe what gives you the courage to continue?"
He reflects on the sessions with the psychologist, who helped him overcome his fear of the police and made him more confident in speaking to officials. "The main thing she taught me is to be brave - the way that she explains things she gave me the opportunity to feel comfortable, to face life."
Hassan compares the experience of talking with the psychologist to going to a friend with a "bag full of things", and sharing its contents, without feeling judgement or reproach. "You empty your whole bag, without thinking of the reaction of your friend, you can see the faces are happy to receive [you], they are welcoming, you feel relaxed. These people are accepting of all that you say, no matter what it is," he says.
Hassan says he also feels a responsibility to make people aware of how to protect themselves from COVID-19. He wants to support people when it comes to the pandemic. "People in the camp are trying to protect themselves, they've gone through a lot of things to still be alive. What I'm trying to do is be the voice of my community to the government services and the NGOs… to help my community with materials and money. It's not something huge, but we are helping with what we have."
Cruelty of containment
Along with hundreds of other refugees, Hassan has received mental health support from the IRC whilst living in Greece's overcrowded camps in conditions no should have to endure.
The pandemic has only made things tougher for refugees living in camps with lockdowns trapping people in intolerable conditions. Europe desperately needs to put an end to the cruelty of containment and urgently relocate the 15,000 people who remain trapped on the islands. Read our report.