Mariangela, a Protection Officer for the IRC in Colombia, helps with transporting Venezuelan refugees who have left their homes on a daily basis. Relentless in her efforts, she talks about what it's like to work in transportation assistance, what to pay special attention to, and what keeps her motivated, even when faced with the toughest situations.
Photos by Aica Films and Camila Montañez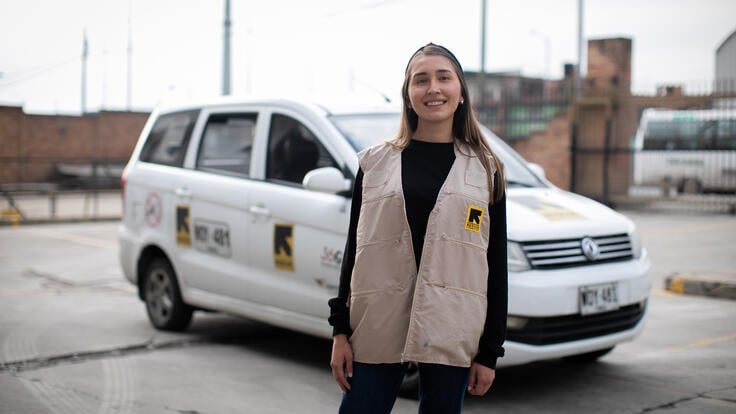 Over 6 million Venezuelans have left the country since 2014 — making it one of the largest externally displaced populations in the world. Venezuelans continue to experience  insecurity, instability, and violence, lacking basic resources and services. This includes food, medicine, and healthcare. As a consequence, families continue to leave the country, yearning to find stability somewhere else — including neighbouring Colombia, which hosts 1.8 million Venezuelans to date. 
But rebuilding a life left behind is never easy. Many face dangers along the way and have limited resources to cope. With support from the European Union (EU), my team and I aim to facilitate those that are in transit throughout Colombia, ensuring that  Venezuelans can remain safe and secure while on their way. 
Despite working in such a tough context — and often seeing people broken-hearted at leaving their lives behind — we remain dedicated to our mission. Here are four key lessons I've learned during this journey:
Look out for those who are most in need
It's impossible to support all refugees that arrive in Colombia. That's why you always have to prioritise those most at risk. Women, children, families, people with disabilities, the eldery, and people with certain medical conditions — these are some of the people we have to particularly watch out for.
For them, the migratory route through  Colombia is particularly dangerous. They risk falling prey to criminal groups that frequently take advantage of their circumstances. Be it their age, health condition, or gender — anything can make them an 'easy target'.  For this reason, our team ensures that those most in need are considered first when it comes to our EU-funded services, especially when it comes to assisting them with transport.
Get to know your clients well
We have partner organisations that run so-called 'transit shelters' for Venezuelans on the road. There, they can rest and wash up for a few days before setting out on their journey again. Our partner organisations will let us know about these new arrivals — especially when it's families, or mothers and their children. We then visit them at the shelters, talk to the social workers at the site who let us know their situation, including their planned destination, anyone they're hoping to reunite with, and family and friends we can contact. We also get to know about any individual risks they face this way.
It's so important to get to know more about our clients so that we can make sure they not only reach their destination safely, but also that they don't get stranded when they finally arrive. We always have to make sure they have family or friends waiting for them — finding out these key details is a crucial part of this work.
Stay by their side, even when it's time to leave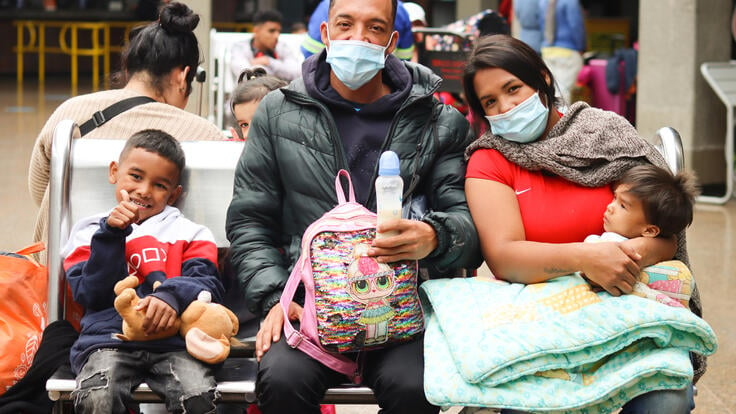 Once clients have been identified, we organize their bus tickets. Eventually, on the day they have to leave, we let them know that we'll assist them in getting to their destination. 
It's important that we don't just 'send off' our clients, but that we're by their side from the beginning until the end. We take them to the terminals, hand over the tickets, make sure they board the right buses and exchange contact information. We especially tell them to make sure they contact us when they've reached, and to keep in touch so we know they're doing well. Should they ever need our help — especially when it comes to accessing healthcare or protection services — we tell them we're here for them, and can refer them to other programs that the IRC is running in Colombia.
Whenever I receive a messages from a client telling me they're safe, or whenever they let us know how thankful they are even for the smallest thing we helped them with, I feel incredibly accomplished —  and I then know that, yes, even the little things we do matter.
Remember why you started doing this in the first place
I myself am a Venezuelan migrant and have been living in Colombia for only two years. I've been lucky enough to be gifted with incredible privilege — I was able to have my university degree validated, get a job and live together with my Colombian partner. 
The majority of those leaving Venezuela do not have these privileges. It was difficult for them to make ends meet back home, and will most likely still be difficult in Colombia. Knowing this, I want to help my people however I can. 
Perhaps the biggest lesson I've learned from doing all of this is how something as fleeting as helping people when they're in an unfamiliar place can have such a big impact on their lives. Though they're just passing by, having the chance to meet so many people has humbled me. While many of them might seem devastated, I'm constantly in awe of their strength. It's a miracle how determined people can be sometimes.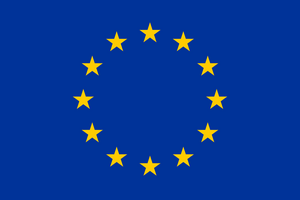 About our work with the European Union