There's one thing that Abari cannot stand: being underestimated.  
"I want to do everything that the people that can see are doing," he says, a look of determination on his face.
Abari lives in the Diffa region of Niger — an area where ongoing conflict and instability has displaced thousands, food and water supplies are scarce and many children and young adults have no access to education. As violence from armed groups continues to spread, families in Niger are in constant search of resources, safety and security. With almost 3.8 million in need of support in Niger, young adults with disabilities are some of the most at-risk, with many being out of school as a result.
 Through funding by the European Union (EU), the multi-country Programmatic Partnership helps school-aged children in Niger, Nigeria and Cameroon receive quality education and protection services.
In Niger, the IRC is focusing its efforts in the Diffa, Tillaberi and Agadez regions, including running schools accessible for children and young adults with visual impairment. These schools offer important services such as picking the students up at home and dropping them off at school, organizing their meals, and teaching them Braille — a writing system used by people who are visually impaired.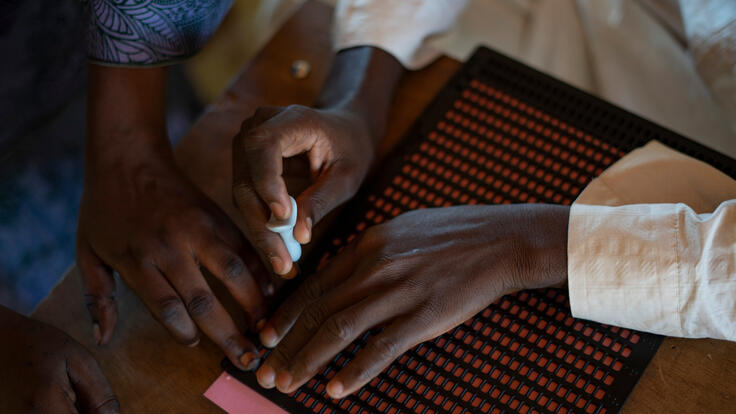 Tchiari, Abari's teacher, stresses how important it is that children and young adults like Abari have access to inclusive education. "In Niger, it's common that those who are blind cannot find work, and are discouraged by those around them when it comes to going to school," she says. Yet, she's convinced that with enough support and motivation at school, her students can "be independent and stand on their own like any other person."
Ever since Abari has been attending school, his parents have felt more at ease. Having Abari's meals at school taken care of, his school fees paid and his transport sorted have lifted a burden that many other Nigerien families with children with disabilities continue to struggle with. 
They're proud of his success at school, and determined to see him grow. His father, 57-year old Moustapha, talks fondly of how dependable his son is. "Even if I don't have anything, I have the feeling that he will hold the family together," says Moustapha, looking lovingly over at Abari. 
Abari's wish for all the young people of Niger — especially those with disabilities  — is to have the same opportunity as him. "Education for people like me is very important," he says. "Even if you are blind, if you are educated, you can do anything." 
Even if you are blind, if you are educated, you can do anything.
Through the encouragement he receives at school, he feels empowered and wants to become an activist for the rights of other students with disabilities. "I want to go places and deliver speeches," says Abari, a look of determination on his face. Emboldened through his experiences, his dreams soar high. "When I finish school, I hope to be somebody that other people look up to."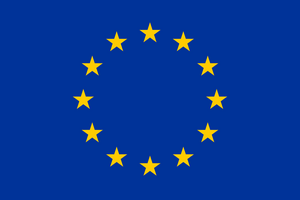 About our work with the European Union