In February, a series of earthquakes, the most powerful 7.8 magnitude, hit Turkey near the border with Syria. Tens of thousands of people were killed and many more were left injured and without essential necessities.
The region was already reeling from nearly 12 years of war in Syria, leading to one of the world's worst humanitarian crises. Two million people lacked adequate housing during the harsh winter, and a decimated health system was grappling with a recent cholera outbreak.
In Turkey, which currently hosts over 3.6 million registered Syrian refugees, natural gas supply has been severely affected and many lack access to safe drinking water.
"Those 60 seconds, or maybe a little more, summarised twelve years of war, of destruction, and of displacement," said Hamed*, the IRC's economic recovery and development manager in Syria. 
The International Rescue Committee (IRC) has been working in Syria since 2012, with more than 1,000 staff inside the country providing lifesaving health care, protection and early recovery support. Since the devastating quakes, the IRC has scaled up our response to support affected populations across both Turkey and Syria, working closely with local organisations. Below, hear more about the work happening now.
Distributing cash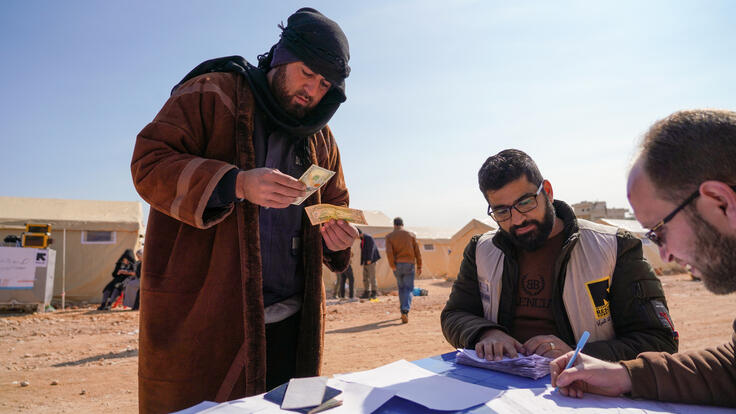 Cash support is one of the most effective ways to help people in crisis, and our teams have been distributing emergency cash to families since the earthquakes.
"People have lost everything—their homes, their children, their source of living," says Hamed. "Providing cash can help people cover their urgent needs and get back on their feet."
As of March 8, the IRC has distributed cash to 4,277 households in Syria—around 25,662 people—making it easier for families to get essential items like food, clothing and household supplies.
"People are in need of everything," says Muneer, who lost three children to the earthquake. He is currently receiving emergency cash support from the IRC. 
"People are shy to demand anything," he continues. "Today, if you give someone bread, he has no choice but to eat it. But, if you give him 50-100 Turkish liras, he knows what he really needs."
Health care
Mobile medical clinics
Dania, a 25-year-old mother of five, and her family were all asleep when the first earthquake struck. After several aftershocks, she heard her brother-in-law and his wife knocking at their door urging them to get out.
"As I left the doorstep, everything collapsed," she says. "I lay down next to the door, protecting my head with my hands. We started to shout. Going downstairs, people said a nearby building collapsed. The main doorstep and entrance was severely damaged. It is not inhabitable anymore, not for a mere second."
Before the earthquake, Dania's husband, a farmer, was the family's sole provider. With his fields now destroyed, Dania was left concerned for her son who suffers from asthma. Recently she was able to connect with an IRC mobile medical clinic team, which provided them with medicines and injections. 
Through these mobile health clinics we are providing vital medical support to earthquake survivors, reaching around 300 people per day—a total of more than 4,000 as of March 7.
Mental health support 
The catastrophic quakes and their aftershocks caused buildings to collapse as people slept, leaving many too afraid to stay indoors. Through local partners, we are supporting an additional 18 health facilities, which includes mental health units, to support people suffering from trauma. This includes counseling sessions to support women, children and caregivers and providing safe spaces for them to stay.
"Mental health and psychosocial support is key at this time for those who have survived the earthquake, given the high prevalence of trauma and distress," says Tanya Evans, the IRC's Syria country director. 
"We spoke to one 34-year-old woman whose 9-year-old daughter is having trouble sleeping because of nightmares. She told us how she now often wakes up screaming 'Mommy, earthquake, earthquake!' during the night."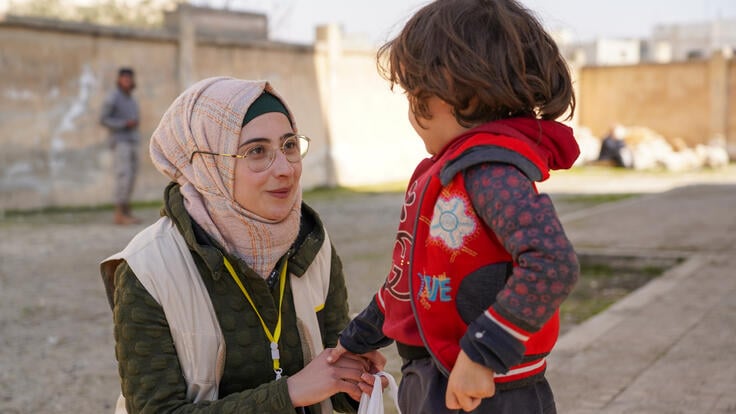 "We're spreading in several areas with the help of the mobile clinic," says Sayeed, senior mental health officer for the IRC in Syria. "We, the mental health employees, will focus on self-care and supporting ourselves in order to be able to best support our people."
Our teams have also rehabilitated damaged health centers and are providing women and girls with soap, hygiene and menstrual supplies. 
Working with local organisations 
Across affected areas in Turkey, we are working closely with partners—who best understand the context of their communities—to support and scale up their response and assist them with large-scale procurement of medicines and other vital items.
Joining forces with local organisations allows us to leverage their experience and invest in the community long term.
This will include distributing food vouchers at local supermarkets and referring people displaced by the earthquake to private service providers for further treatment at no cost to them.
"This earthquake lasted two minutes and it affected more than 13 million individuals," says Esra, a 27-year-old doctor from Turkey.
Esra and her team are setting up mobile physiotherapy and psychosocial support clinics in the Gaziantep and Kilis provinces in Turkey through an IRC partner organisation, the Independent Doctors Association.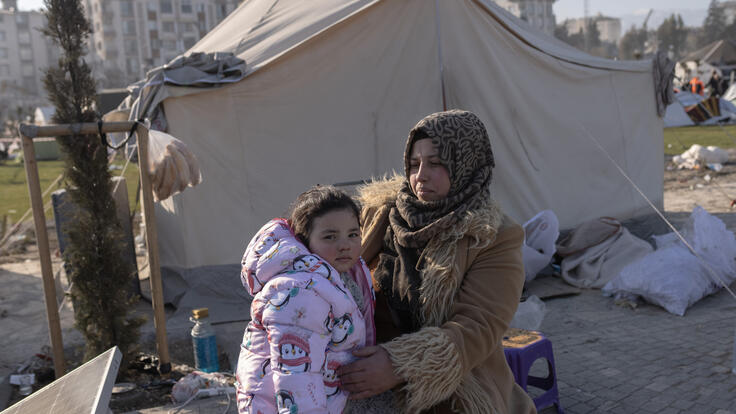 *Name changed or omitted for privacy
How can I help? 
Please donate. Your gift will help the IRC provide emergency services to families in Turkey and Syria, and to refugee families in countries around the world.